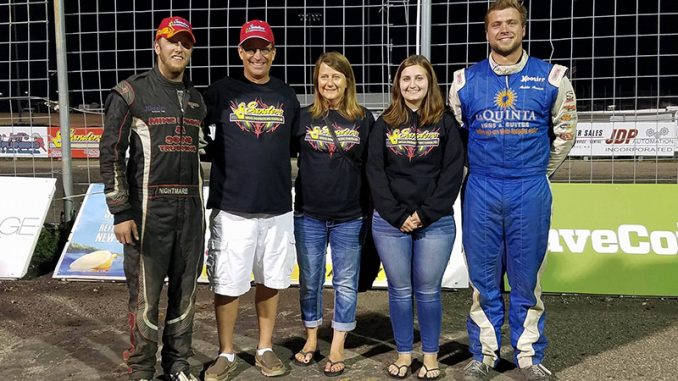 By Mike Spieker
WEST FARGO, N.D. (Aug. 18) – A stout field of 40 IMCA Modifieds were checked in Friday for night two of the Sanders Modified Challenge Tour at Red River Valley Speedway. In a dominating per­formance, Lucas Rodin captured the checkered flag for his first career win at the semi-banked 3/8-mile dirt oval.
"I just had to hold it to the floor pretty much the whole way around just to get the car to turn," said Rodin from victory Lane. "I tried to stay around the bottom and it worked out for us."
Rodin grabbed the lead on lap one from the third starting position as Dale Kraling, Dave Shipley and Trent Grager battled for second.
He steadily distanced himself from the field as the race advanced and was able to efficiently slice his way through heavy lapped traffic.
The only thing that could slow Rodin was the caution flag, which flew with five laps remaining. Kraling and Shipley lined up on the leader's rear bumper for the ensuing restart.
As the race resumed, 13th starting Austin Arneson was the man on the move as he worked his way from fifth to second. Arneson had five car lengths between himself and Rodin with two to go, but he was never able to reel him in.
Rodin drove two flawless circuits as he cruised to the win over Arneson, Kraling, Shipley and Troy Heu­pel.
Jesse Skalicky collected his second Karl Chevrolet Northern SportMod win in as many nights and
Eric Harpole picked up the IMCA Sunoco Stock Car victory.
Feature results – 1. Lucas Rodin; 2. Austin Arneson; 3. Dale Kraling; 4. Dave Shipley; 5. Troy Heupel; 6. Rob VanMil; 7. Michael Johnson; 8. Cody Peterson; 9. Tyler Peterson; 10. Marcus Tomlin­son; 11. Josh Eberhardt; 12. Trent Grager; 13. Lance Schilling; 14. Josh Beaulieu; 15. Jus­tin Jones; 16. Luke Schilling; 17. Rich Pavlicek; 18. Cale Arneson; 19. Tailin Tommerdahl; 20. Greg Friestad; 21. Bryce Bjerken; 22. Darren Pfau; 23. Dev Malmlov; 24. Michael Greseth.