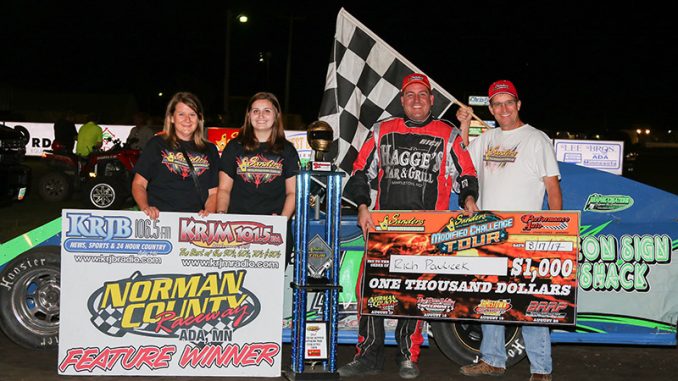 By Mike Spieker
ADA, Minn. (Aug. 17) – Rich Pavlicek raced to the $1,000 feature win when season-high 47 IMCA Mod­ifieds checked in Thursday for opening night of the Sanders Modified Challenge Tour at Nor­man County Raceway.
In his first appearance of the season at Ada, the defending champion Pavlicek started on the pole, got the lead back from Michael Greseth following a lap nine restart and cruised to the win and 2018 Fast Shafts All-Star Invitational berth.
Greseth, Tyler Peterson, John Correll and "B" transfer Austin Arneson rounded out the top five.
Pavlicek was running the extreme high groove when Greseth snuck underneath him to claim the lead five circuits into the 25-lapper.. Greseth quickly opened up a 10 car length lead over Pavlicek, but a caution with 16 to go brought the field right back to Greseth's rear bumper.
On the restart, Tyler Peterson momentarily took second away from Pavlicek, but Pavlicek re­claimed the position down the back straightaway.
Pavlicek kept moving forward and took the lead away from Greseth in turns one and two, utilizing the extreme low groove. Greseth immediately followed suit and went back to the low side in at­tempt to track down Pavlicek.
Pavlicek was too quick, however, as he opened up a comfortable lead out front and cruised to the checkers.
Aaron Olson won for the 11th time this season at Norman County in the IMCA Sunoco Stock Cars and Jesse Skalicky captured his third consecutive local win in the Karl Chevrolet Northern SportMods.
Feature results – 1. Rich Pavlicek; 2. Michael Greseth; 3. Tyler Peterson; 4. John Correll; 5. Aus­tin Arneson; 6. Jason Grimes; 7. Josh Beaulieu; 8. Tyler Hall; 9. Dave Shipley; 10. Cale Arneson; 11. Lucas Rodin; 12. Lance Schilling; 13. Dale Kraling; 14. Luke Schilling; 15. Alex En­gelstad; 16. Michael Johnson; 17. Billy Vogel; 18. Rob VanMil; 19. Myles Tomlinson; 20. Brad Hartigan; 21. Jamie Trautner; 22. Greg Friestad; 23. Josh Eberhardt; 24. Trent Grager.