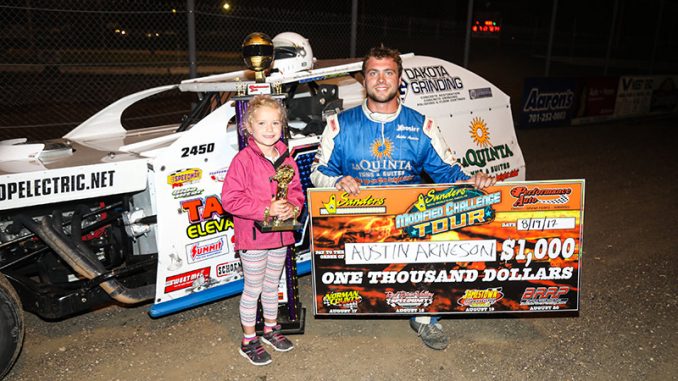 By Mike Spieker
JAMESTOWN, N.D. (Aug. 19) – Austin Arneson led from lap eight to the lap 25 checkers in win­ning Saturday's Sanders IMCA Modified Challenge Tour main event at Jamestown Speedway.
The fifth starting Arneson worked his way by Jamie Trautner on lap two before getting by Michael Greseth and Rusty Kollman on lap six. From there, Arneson set his sights on Marlyn Seidler for the lead. Arneson was able to quickly reel in Seidler and make the pass for the lead on lap eight.
"That was a blast," said Arneson after the $1,000 Fast Shafts All-Star Invitational ballot qualifying win. "The track was pretty even early on but it got kind of tricky and a little choppy later on. Greseth was good on the bottom, Seidler was good all over, Kollman was good on top and I just kind of split them all and it worked."
Once out front, Arneson established a commanding lead as he paced the field around the high-banked quarter-mile clay oval and went on to lead the remainder of the event. At the checkers, Arneson topped Seidler by a whopping 3.616 seconds.
"We were able to build our momentum up when we got out front. I didn't really know where to run, but the track the track was good and we were able to get it done," Arneson concluded.
Greseth hung on for third while Dave Shipley charged from 18th to fourth. Trent Grager passed five cars to round out the top five.
Forty-six of the best IMCA Modified drivers in the Upper Midwest gathered at Jamestown for night three of the four-race tour.
Feature results – 1. Austin Arneson; 2. Marlyn Seidler; 3. Mike Greseth; 4. Dave Shipley; 5. Trent Grager; 6. Jason Grimes; 7. Rusty Kollman; 8. Josh Eberhardt; 9. Tyler Peterson; 10. Cale Arneson; 11. Rob VanMil; 12. John Corell; 13. Jarrett Carter; 14. Jamie Trautner; 15. Lucas Ro­din; 16. Michael Johnson; 17. Myles Tomlinson; 18. Dale Kraling; 19. Greg Friestad; 20. Tyler Hall; 21. Cody Peterson; 22. Troy Heupel; 23. Lance Schilling; 24. Tracy Domagala.