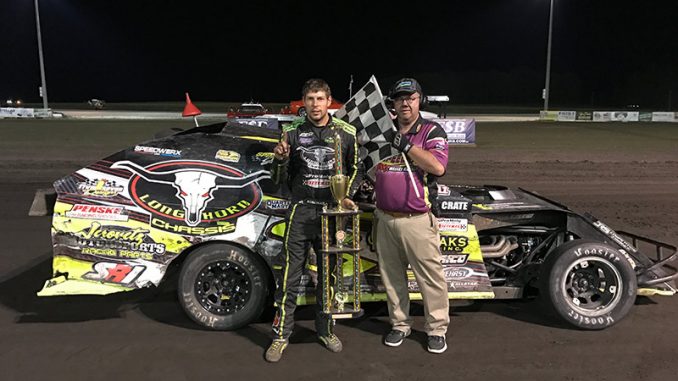 BRITT, Iowa (Aug. 12) – Kyle Strickler was right where he wanted to be midway through Hancock County Speedway's Shryock Memorial All-Star main event.
As a result, he was right where he wanted to be at the end of Saturday's 50-lap feature for IMCA Modifieds.
Strickler stayed close to Ryan Ruter following numerous cautions throughout the first half and was running second when the race was halted for the mandatory pit stop at halfway.
He restarted second, took the lead almost at the drop of the green and checked out on the rest of the 31-car field, taking the $4,000 checkers handily ahead of Ruter.
"It was so important to be lined up second," Strickler explained. "The track had rubbered up and I was definitely trying to position myself for the restart."
"It's tough to run well in a field this good but we made a gear change (at halfway) that helped us," he added. "I knew if I could get out front I'd be tough to catch."
The second 25 laps ran caution-free. The only thing slowing down Strickler was traffic as he took the win in front of Ruter, Mike Mashl, 11th starting Brian Mullen and Benji LaCrosse. Ruter also went home with a check for $4,000, which included a bonus of $1,000 for leading lap 25.
Shane Monson started 26th and ended in eighth; Richie Gustin was also a plus 18 on the night after starting 28th and ending in 10th.
After finishing one spot short of a transfer from his "B" in Thursday's Night of 1,000 Stars program, Strickler had finished 13th in Friday's Night of 10,000 Stars at Britt.
"We were struggling," admitted Strickler, already on the ballot for next year's Fast Shafts All-Star Invitational, "but this was a good way to end the week."
Hunter Marriott clinched the IMCA Speedweek crown with his 17th place finish.
Cody Nielsen was the $750 IMCA Sunoco Hobby Stock winner and Darin Toot's IMCA Sunoco Stock Car victory paid $600.
Colby Fett and Lucas Lamberies swapped the Karl Chevrolet Northern SportMod lead back and forth before Fett took the front spot for good late in the 20-lapper. Those checkers were good for $500.
Feature results – 1. Kyle Strickler, Mooresville, N.C.; 2. Ryan Ruter, Clear Lake; 3. Mike Mashl, DePere, Wis.; 4. Brian Mullen, Seymour, Wis.; 5. Benji LaCrosse, Green Bay, Wis.; 6. Cayden Carter, Oskaloosa; 7. Billy Kendall, Baxter, Minn.; 8. Shane Monson, Clear Lake; 9. Tyler Droste, Waterloo; 10. Richie Gustin, Gilman; 11. Joel Rust, Grundy Center; 12. Mike Mullen, Suamico, Wis.; 13. Kelly Shryock, Fertile; 14. Nick Meyer, Whittemore; 15. Clint Wendel, Mason City; 16. Cody Knecht, Whittemore; 17. Hunter Marriott, Brookfield, Mo.; 18. Jon Snyder, Ames; 19. Troy Swearingen, Thompson; 20. Tim Ward, Harcourt; 21. Tad Reutzel, Burt; 22. Mike Jergens, Plover; 23. Jeremy Mills, Garner; 24. Adam Hensel, Hammond, Wis.; 25. Corey Dripps, Reinbeck; 26. Paul Stone, Winton, Calif.; 27. Jason Briese, Cleghorn; 28. Jeff Feaster, Humboldt; 29. Jeff Aikey, Cedar Falls; 30. Mark Noble, Blooming Prairie, Minn.; 31. Josh Ruby, Lakota.