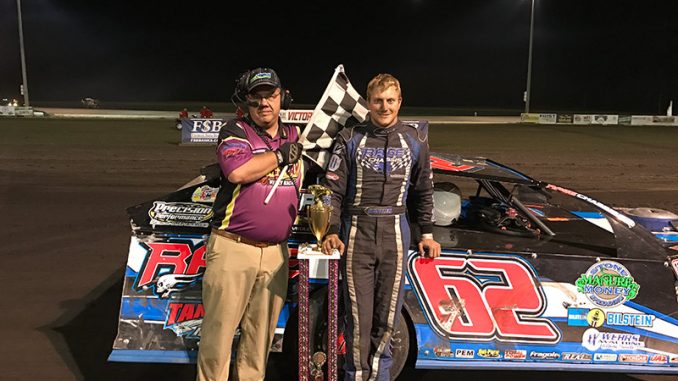 BRITT, Iowa (Aug. 11) – Hunter Marriott became the first repeat winner of IMCA Speedweek when he repeated as the Night of 10,000 Stars winner Friday at Hancock County Speedway.
Marriott led all but the first lap, earning $7,000 for the IMCA Modified feature victory along with a $1,000 bonus for leading at halfway in the 50-lap main event.
Tad Reutzel drew the pole start and was scored first on the opening circuit; the sixth-starting Mar­riott made the best use of the lower line, had the lead the next time around and stayed in front to the finish.
Richie Gustin raced from 13th starting to finish second while hard charger Ryan Ruter passed 21 cars and ended in third.
Rounding out the top five were Joel Rust, who had started 22nd, and Ethan Dotson.
Marriott, runner-up at Thursday's Night of 1,000 Stars at Britt, had raced his way onto the 2018 Fast Shafts All-Star Invitational ballot by winning Monday's Arnold Motor Supply Hawkeye Dirt Tour feature at Clay County Fair Speedway.
Randy Brands was the $750 IMCA Sunoco Stock Car feature winner Friday while Cody Nielsen and Johnathon Logue both earned $500 for IMCA Sunoco Hobby Stock and Karl Chevrolet North­ern SportMod victories, respectively.
IMCA Speedweek concludes with Saturday's Shryock Memorial All Star Night at Hancock County. That event will be broadcast by IMCATV.
Feature results – 1. Hunter Marriott, Brookfield, Mo.; 2. Richie Gustin, Gilman; 3. Ryan Ruter, Clear Lake; 4. Joel Rust, Grundy Center; 5. Ethan Dotson, Bakersfield, Calif.; 6. Kelly Shryock, Fertile; 7. Corey Dripps, Reinbeck; 8. Benji LaCrosse, Green Bay, Wis.; 9. Mike Mullen, Suamico, Wis.; 10. Jeremy Mills, Garner; 11. Mike Mashl, DePere, Wis.; 12. Tad Reutzel, Burt; 13. Kyle Strickler, Mooresville, N.C.; 14. Brian Mullen, Seymour, Wis.; 15. Clay Money, Penokee, Kan.; 16. Jay Noteboom, Hinton; 17. Ricky Stephan, South Sioux City, Neb.; 18. Mark Noble, Blooming Prai­rie, Minn.; 19. Kody Scholpp, Estevan, Sask.; 20. Stacey Mills, Webb; 21. Mark Joski, Den­mark, Wis.; 22. David Brown, Kellogg; 23. Troy Swearingen, Thompson; 24. Ben Kraus, Britt; 25. Shane Swanson, Forest City; 26. Tim Ward, Harcourt; 27. Billy Kendall, Baxter, Minn.; 28. Paul Stone, Winton, Calif.; 29. Josh Ruby, Lakota; 30. Cody Knecht, Whittemore.