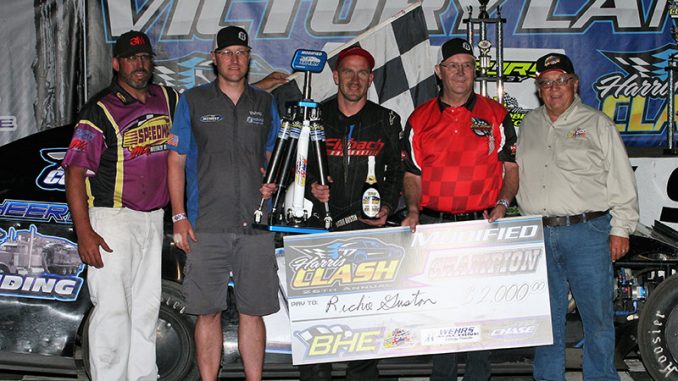 WEBSTER CITY, Iowa (Aug. 8) – Richie Gustin made sure the race was for second Tuesday night at Hamilton County Speedway.
Gustin led all 25 laps of the Harris Clash for IMCA Modifieds, earning $2,000 for a dominating performance. Tim Ward took over second late in the contest but didn't have enough laps left to reel in Gustin.
Ryan Ruter chased Gustin early and ended in third while Hunter Marriott was fourth. Kelly Shryock and Joel Rust came out of "B" features to finish fifth and sixth, respectively.
Gustin had started outside Todd Shute on the front row and quickly moved into the front spot, run­ning the extreme lower line with Ruter.
A couple cautions were all that slowed Gustin as he pulled away from the rest of the field after each restart. Ward found success on the high side in working his way to the runner-up spot.
Shryock started 16th, Rust 18th. Already on the ballot for next year's Fast Shafts All-Star Invita­tional, Gustin had previously won the Harris Clash in 2010.
Rust, the defending Clash winner, topped the 10-lap dash for feature winners on designated nights at 10 area race tracks. He passed Chris Abelson and took the $500 checkers ahead of Gustin.
Jared VanDeest was the $1,000 Karl Chevrolet Northern SportMod winner, pulling away from Cur­tis Van Der Wal in the late going in that 20-lapper.
After working his way past Austin Luellen for the lead, VanDeest had checked out on everybody while the 11th starting Van Der Wal began his drive toward the front.
Jake McBirnie, Luellen and 16th starting Jack Sachau completed the top five.
Fifty-two Modifieds and 38 Northern SportMods competed at the 26th annual Clash. The pole posi­tion was left empty during a SportMod parade lap in honor of the late Robbie Conway, who had competed at last year's event.
"He was one of those guys you couldn't help but like," said Event Promoter Bob Harris. "He did so much for so many people, plus he was a great racer."
Feature results
Modifieds – 1. Richie Gustin, Gilman; 2. Tim Ward, Harcourt; 3. Ryan Ruter, Clear Lake; 4. Hunter Marriott, Brookfield, Mo.; 5. Kelly Shryock, Fertile; 6. Joel Rust, Grundy Center; 7. Kyle Strickler, Mooresville, N.C.; 8. Chris Abelson, Sioux City; 9. Mike Mashl, DePere, Wis.; 10. Tyler Droste, Waterloo; 11. Todd Shute, Des Moines; 12. Ethan Dotson, Bakersfield, Calif.; 13. Jeremy Mills, Garner; 14. Tad Reutzel, Burt; 15. Jon Snyder, Ames; 16. Jon Plowman, Woodbine; 17. Paul Stone, Winton, Calif.; 18. Chase Ellingson, Williams; 19. Nate Hughes, Humboldt; 20. Tom Berry, Medford, Ore.; 21. Clay Money, Penokee, Kan.; 22. Racer Hulin, Laurel; 23. Shane Swan­son, Forest City; 24. Kyle Brown, Madrid.
Clash Dash – 1. Rust; 2. Gustin; 3. Plowman; 4. Mashl; 5. Shryock; 6. Reutzel; 7. Marriott; 8. Abelson; 9. Mike Jergens, Plover; 10. Jeff Aikey, Cedar Falls.
Northern SportMods – 1. Jared VanDeest, Holland; 2. Curtis Van Der Wal, Oskaloosa; 3. Jake McBirnie; 4. Austin Luellen, Minburn; 5. Jake Sachau, Denison; 6. Ty Griffith, Webster City; 7. Doug Smith, Lake City; 8. Sam Wieben, Dysart; 9. Ethan Braaksma, Newton; 10. Dan Drury, Eldora; 11. Rocky Caudle, Ellsworth; 12. Cory Pestotnik, Boone; 13. Cody Thompson, Sioux City; 14. Jesse Skalicky, Fargo, N.D.; 15. John Watson, Des Moines; 16. Lucas Lamberies, Clinton­ville, Wis.; 17. Cory Rose, Boone; 18. Jack Housley, Des Moines; 19. Dan Paplow, Dundee, Minn.; 20. Bryan Johnson, Roland; 21. Austin Schrage, Cresco; 22. Taylor Musselman, Urban­dale; 23. Robert Moore, Maxwell; 24. Christopher Elliott, Webster City.