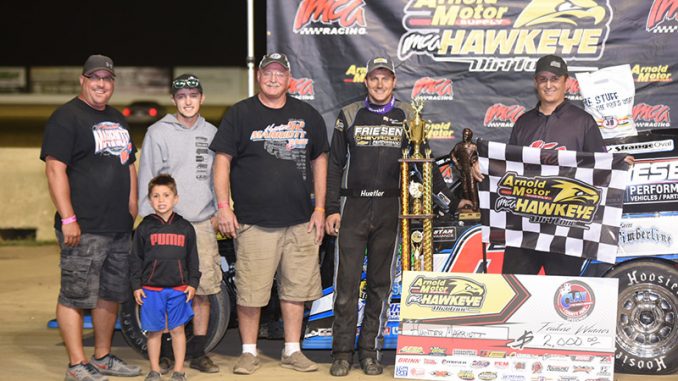 SPENCER, Iowa (Aug. 7) – Hunter Marriott has to have Clay County Fair Speedway on his list of favorite tracks.
So does Kelly Shryock.
Marriott led the last half of Monday's Arnold Motor Supply Hawkeye Dirt Tour main event, earning $2,000 along with the IMCA Modified checkers. He'd also won the tour event at Spencer last year and now owns four career series victories.
Shryock raced all the way back to finish second after exiting for the pits following an early caution and restarting at the back of the field. He'll take a 12-point advantage over Joel Rust into the tour finale Wednesday at Buena Vista Raceway.
Ryan Ruter, Mike Jergens and Tom Berry Jr. completed the top five. Ten states and Canada were represented by the Modified entries.
Ruter drew the pole and led the first of 30 laps. Nick Meyer, making the quick transition from a Karl Chevrolet Northern SportMod, was alongside and just ahead of Ruter when the second circuit was scored.
A long green flag run finally ended with a caution on lap 14. Marriott drove from third to the lead on the higher line while Ruter shuffled Meyer to third.
Three more cautions came out over the last half of the race but Marriott, already on the ballot for next year's Fast Shafts All-Star Invitational, couldn't be caught.
Rust was late getting to the track Monday, missed his heat race and started last in his 10-car "B" feature. He ended in fourth, started 20th in the feature and ended a credible 10th.
Other winners Monday at Spencer were Derek Green in the IMCA Sunoco Stock Cars, Doug Smith in the Karl Chevrolet Northern SportMods, Chad Lonneman in the IMCA Sunoco Hobby Stocks and Cory Peters in the Mach-1 Sport Compacts.
The 26th annual Harris Clash is Tuesday at Hamilton County Speedway in Webster City. The Aug. 9 Hawkeye Dirt Tour finale at Alta pays $1,000 to win, plus a bonus of $100 from IMCA for every HDT event that driver competed in this season.
Both the gates and the grandstand at BVR open at 5 p.m. Hot laps are at 6:45 p.m. with racing to follow.
Both the Harris Clash and the Arnold Motor Supply Hawkeye Dirt Tour event at BVR will be broadcast by IMCATV.
Feature results – 1. Hunter Marriott, Brookfield, Mo.; 2. Kelly Shryock, Fertile; 3. Ryan Ruter, Clear Lake; 4. Mike Jergens, Plover; 5. Tom Berry Jr., Medford, Ore.; 6. Chris Mills, Sioux City; 7. Tim Ward, Harcourt; 8. Clay Money, Penokee, Kan.; 9. Nick Meyer, Whittemore; 10. Joel Rust, Grundy Center; 11. Jacob Murray, Hartford; 12. Chris Abelson, Sioux City; 13. Clayton Christensen, Spencer; 14. Ethan Dotson, Bakersfield, Calif.; 15. Tyler Limoges, Redwood Falls, Minn.; 16. Corey Bosma, Ocheyedan; 17. Chris Palsrok, Sibley; 18. Stacey Mills, Webb; 19. Cody Knecht, Whittemore; 20. Jim Mathieson, Sioux City; 21. Jay Noteboom, Hinton; 22. Kyle Brown, Madrid; 23. Kody Scholpp, Estevan, Sask.; 24. Kyle Strickler, Mooresville, N.C.; 25. Kevin Eder, Ashland, Wis.
1st heat – 1. Abelson; 2. Ruter; 3. Berry; 4. Strickler; 5. Shryock; 6. Jason Fisher, Lakefield, Minn.; 7. Rick Stephan, South Sioux City, Neb.; 8. James Slawson, Spirit Lake.
2nd heat – 1. Meyer; 2. Eder; 3. Chris Mills; 4. Brown; 5. Palsrok; 6. Scholpp; 7. Bosma; 8. Murray.
3rd heat – 1. Money; 2. Stacey Mills; 3. Ward; 4. Derrick Barglof, Sioux Rapids; 5. Dotson; 6. Jergens; 7. Christensen; 8. Jason Briese, Cleghorn.
4th heat – 1. Marriott; 2. Limoges; 3. Knecht; 4. Noteboom; 5. D.J. Shannon, Merced, Calif.; 6. Mathieson; 7. Josh Bonnstetter, Slayton, Minn.
1st "B" feature – 1. Strickler; 2. Shryock; 3. Dotson; 4. Jergens; 5. Christensen; 6. Briese; 7. Fisher; 8. Slawson; 9. Stephan; 10. Barglof.
2nd "B" feature – 1. Noteboom; 2. Brown; 3. Scholpp; 4. Rust; 5. Bosma; 6. Palsrok; 7. Bonnstetter; 8. Shannon; 9. Mathieson; 10. Murray.