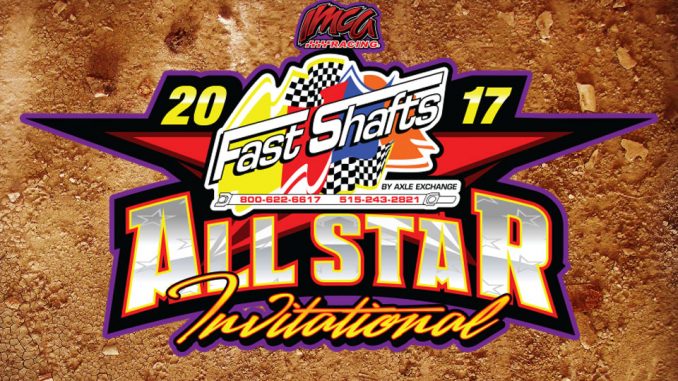 BOONE, Iowa (Aug. 4) – Three more former race winners, along with a trio of first-time honorees are among the second group of drivers elected to start the upcoming Fast Shafts All-Star Invita­tional.
Jay Noteboom (2005 and 2008), Chris Abelson (2011) and Todd Shute (2013) return to the IMCA Speedway Motors Super Nationals fueled by Casey's with All-Star victories on their re­sumes. Steven Bowers Jr., Clay Money and Jeremy Payne make their first All-Star starts on Friday, Sept. 8 at Boone Speedway.
Three All-Stars from each of the five IMCA Modified regions, were elected in the first round of vot­ing. The next 13 All-Stars were elected through at-large balloting from the 116 remaining candi­dates.
Also advancing from the second round to the All-Star starting field are Kyle Brown, Corey Dripps, Darin Duffy, Mike Jergens, Jeff Taylor, Tim Ward and Jason Wolla.
All 13 have been contacted by IMCA and confirmed that they would compete at Super Nationals.
Abelson is a former national champion and joins Noteboom on the career 100 wins list for the division. Shute and Taylor have won Super Nationals championships, as has Duffy in a Late Model.
Bowers, Ward and Wolla, the new national points leader, each won state crowns in 2016, in addition to qualifying events.
Brown, Dripps, Duffy, Jergens, Money and Payne all raced their way onto the ballot by winning weekly or special events that paid $1,000 or more. Payne is the five-time and defending Duel In The Desert winner and is entered in his first Super Nationals.
Noteboom makes his career 10th All-Star start while Abelson and Ward are each in for the sev­enth time.
Taylor was elected to his sixth All-Star race, Shute to his fifth, Wolla to his fourth, Dripps to his third and Brown, Duffy and Jergens each to their second.
All-Stars elected in round one were Dean Abbey, Ricky Alvarado, Ethan Dotson, William Gould, Jordan Grabouski, Matt Guillaume, Jimmy Gustin, Richie Gustin, Hunter Marriott, Johnny Scott, Kelly Shryock, Kyle Strickler, Ricky Thornton Jr., A.J. Ward and Will Ward
Completing the starting grid of 30 will be All-Star candidates with the top national point to­tal and the most 40-point feature wins as of Aug. 31 competing at Super Nationals.
The Fast Shafts All-Star Invitational pays $1,000 to win and Bilstein Shocks furnishes $750 in lap money.