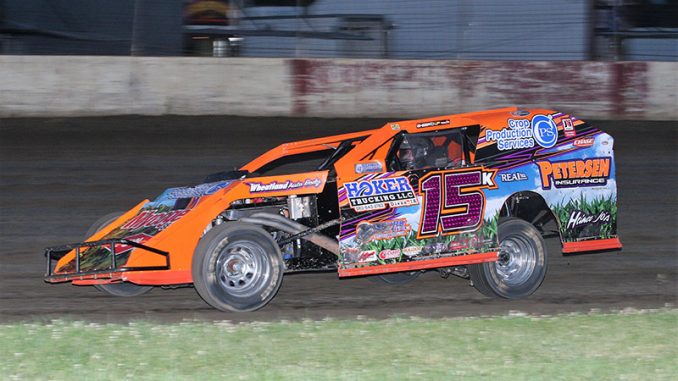 DUBUQUE, Iowa (July 25) – Justin Kay's drive to victory lane following the Arnold Motor Supply Haw­keye Dirt Tour feature at Dubuque Speedway started back home in the shop.
Kay led the last 11 of 30 laps in winning the Tuesday IMCA Modified main event, on open­ing night of the county fair. The $1,200 tour victory was Kay's career fourth, his second of the season and put him on the ballot for the 2018 Fast Shafts All-Star Invitational.
"We made a bunch of changes in the shop. I didn't feel I was very good at Oskaloosa or Knox­ville," said Kay, who had finished seventh and then fifth in the previous two tour events. "The car got a lot better. That was a big part of it. I could do more with the car."
Pole starter Kenny Kostenbader ran in front past midway, with the eighth starting Kay close be­hind much of that distance.
"I chased him for what seemed like forever. He ran on not quite the bottom while I ran top, bot­tom, middle, pretty much everywhere but could never get by him," Kay said. "He finally got a little high into three and I was able to get next to him. We ran side-by-side for about a lap before I got by."
The one caution of the contest came with six laps left. A great restart saw Kelly Shryock crack the top five and motor all the way to second.
He finished as the runner-up, regaining the tour point lead from seventh finishing Joel Rust in the process. Tyler Droste, Darin Duffy and Kostenbader chased Kay and Shryock across the stripe.
Kay is the first repeat tour winner this season, having taken the June 13 checkers at West Liberty. His Tuesday victory was also his second in as many tour races held at Dubuque.
The last two Arnold Motor Supply Hawkeye Dirt Tour events of the season are Aug. 7 at Clay County Fair Speedway in Spencer and Aug. 9 at Buena Vista Raceway in Alta.
Both events, as well as the 26th annual Harris Clash on Aug. 8 at Hamilton County Speedway in Webster City, will be broadcast by IMCATV.
Feature results – 1. Justin Kay, Wheatland; 2. Kelly Shryock, Fertile; 3. Tyler Droste, Waterloo; 4. Darin Duffy, Urbana; 5. Kenny Kostenbader, Freeport, Ill.; 6. Mark Schulte, Delhi; 7. Joel Rust, Grundy Center; 8. Jed Freiburger, Dubuque; 9. Tyler Madigan, Peosta; 10. Ryan DeShaw, Dyers­ville; 11. Troy Cordes, Dunkerton; 12. Jeff Larson, Freeport, Ill.; 13. Matt Gansen, Zwingle; 14. Jerry Luloff, Independence; 15. Steve Johnson, Camanche; 16. Ray Cox Jr., Maquoketa; 17. Luke Merfeld, Dubuque; 18. Jeff Aikey, Waterloo; 19. Derek Thompson, Monroe, Wis.; 20. Ryan Maitland, Waterloo; 21. Zach Less, Manchester; 22. Brandon Maitland, Waterloo; 23. Austin Mo­yer, Dubuque; 24. Jacob Murray, Hartford.
1st heat (top three) – 1. Freiburger; 2. Kay; 3. Schulte; 4. DeShaw; 5. Murray; 6. Corey Cullen, Cuba City, Wis.; 7. Thompson; 8. Keith Pittman, Waterloo.
2nd heat – 1. Cordes; 2. Luloff; 3. Kostenbader; 4. Less; 5. Johnson; 6. Jason Schueller, Dubu­que; 7. Aikey; 8. John Campbell, Dubuque.
3rd heat – 1. Duffy; 2. Cox; 3. Merfeld; 4. Ryan Maitland; 5. Madigan; 6. Mike Weidemann, Dubu­que; 7. Sean Rupp, Georgetown, Wis.
4th heat – 1. Rust; 2. Shryock; 3. Droste; 4. Larson; 5. Gansen; 6. Moyer; 7. Brandon Maitland.
1st "B" feature (top five) – 1. Madigan; 2. DeShaw; 3. Thompson; 4. Ryan Maitland; 5. Murray; 6. Pittman; 7. Rupp; 8. Weidemann; 9. Cullen.
2nd "B" feature – 1. Johnson; 2. Larson; 3. Moyer; 4. Gansen; 5. Less; 6. Aikey; 7. Schueller; 8. Brandon Maitland; 9. Campbell.