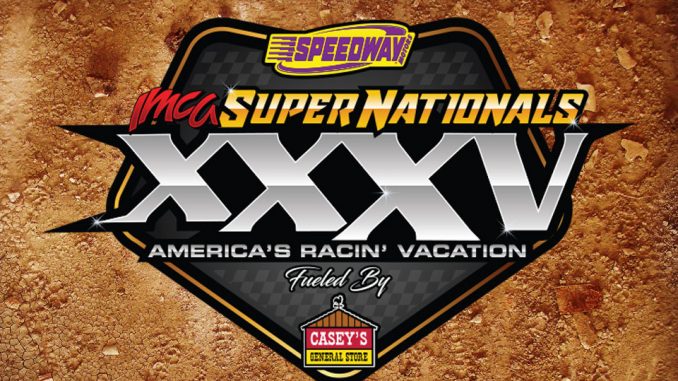 BOONE, Iowa – Drivers and fans won't see a lot of changes in the facility or the format when they pull into Boone Speedway for the Sept. 4-9 IMCA Speedway Motors Super Nationals fueled by Casey's.
And IMCA President Brett Root believes that's a good thing.
"There are no race night changes. There were no major changes to the speedway since last year's Super Nationals. This year we can focus on logistics and putting on the best event possible," he said. "We are positioned to putting on the best event in the 35-year history of Super Nationals."
Southern SportMods joined the opening night card when they were added to the program last year and the Deery Brothers Summer Series for Late Models moved to Thursday.
The pit area and hot pit viewing area have been expanded, with new spectator seating added on both sides of the track in recent seasons. With those improvements in place, Root and all of the IMCA Racing nation are next hoping for a more weather-friendly event this September.
"Weather is always the wild card. Last year was our worst-ever in terms of the weather," he said, recalling the wet week at Boone. "The last time we had that amount of rain was 1996, when the Modified main event was postponed to Sunday."
"That led to the purchase of the jet dryer the next year. The jet dryer was used more at last year's Super Nationals than any year since 1997," Root added. "We have a had a very good format in place and the only thing that would affect that is the weather. The changes we made in qualifying last year were made because we had no other options time-wise."
Two hundred and twenty-five drivers have already pre-registered for Super Nationals. Those early entries represent 20 states and Canada.
"That's about 75 ahead of this time last year," Root noted. "As always, we encourage drivers to get entered and get pit stall applications in. Reserved stalls have always sold out at previous Super Nationals and I anticipate that to be the case again. There is plenty of non-reserved pit parking available but any drivers on the waiting list for concrete reserved stalls who don't get them will receive refunds."
Entry forms and pit stall applications for Super Nationals are posted on both the IMCA (www.imca.com) and track (www.raceboone.com) websites and published in the July Inside IMCA newsletter.
Entry fees, if paid before Aug. 25, are $40 for Modifieds, $50 for Late Models, $25 for Stock Cars, Hobby Stocks, Northern SportMods and Southern SportMods, and $15 for Sport Compacts.Super Nationals competitors can also pre-enter by calling the IMCA home office at 319 472-2201.
Drivers in all divisions except the Late Models are required to pre-enter to be eligible for shares of $13,000 in championship bonuses. Modified, Stock Car, Hobby Stock and Northern SportMod drivers must also be entered ahead of time to be eligible to compete in the Sept. 2 50th anniversary Prelude special at Boone.
There were 267 entries in the 2016 Prelude, which set the stage for a record car count of 906 at Super Nationals.
After Southern SportMods headline the opening night show, which also sees qualifying begin for Hobby Stocks and Northern SportMods, the complete Sport Compact program will be held on Tuesday, Sept. 5. Modified and Stock Car qualifying starts Wednesday, Sept. 6. The Deery Series takes center stage on Thursday, Sept. 7 and the Fast Shafts All-Star Invitational is Friday, Sept. 8.
Main events and races of champions for the Modifieds, Stock Cars, Northern SportMods and Hobby Stocks bring the week to a close on Saturday, Sept. 9.
Both the Prelude and Super Nationals will be broadcast by IMCATV.