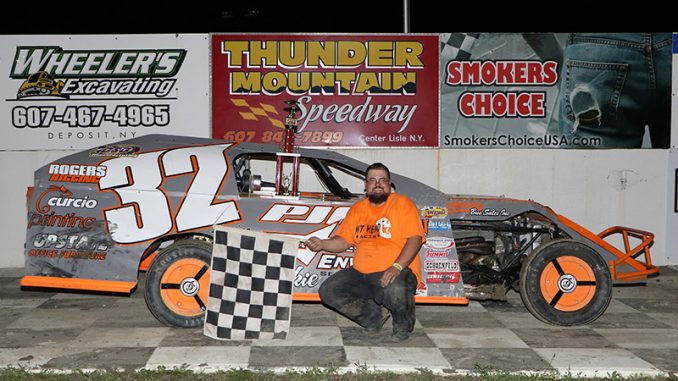 CENTER LISLE, N.Y. (July 15) – Tyler Stoddard has seen a lot of countryside traveling to a lot of different tracks over the seven years he's followed the Empire State Series for IMCA Modifieds.
On Saturday, he got his first view of the tour from victory lane.
Stoddard won his first career series feature, and first IMCA Modified event since 2015, at Thunder Mountain Speedway. The 2016 tour runner-up noted that he'd made one small adjustment, suggested by car builder Bob Bills by text earlier in the day.
"It seems like I've always been the bridesmaid. I've got a ton of second-place finishes," he said. "This win was just unbelievable especially because going into this race we had been having setup issues with the car."
Stoddard started outside pole and fell back to third briefly before getting the second spot, behind Gary Lamphere.
Three early cautions came out but Stoddard had the lead before midway in the 20-lapper.
Lapped traffic was not a factor as Bumps Scott, Rich Michael Jr., Will Ward and Keith Jack Lamphere chased Stoddard to the $750 checkers.
"Once I got out front I just put it on cruise control and concentrated on hitting my marks," Stoddard said.
Feature results – 1. Tyler Stoddard; 2. Bumps Scutt; 3. Rich Michael Jr.; 4. Will Ward; 5. Keith Jack Lamphere; 6. Gary Roberts; 7. Rodney Morgan; 8. Ray McClure; 9. Mike Stoddard; 10. Gary Lamphere; 11. Billy Ward; 12. Keith Lamphere Sr.; 13. Dan Searles; 14. Eric Boynton; 15. Brad Smith.