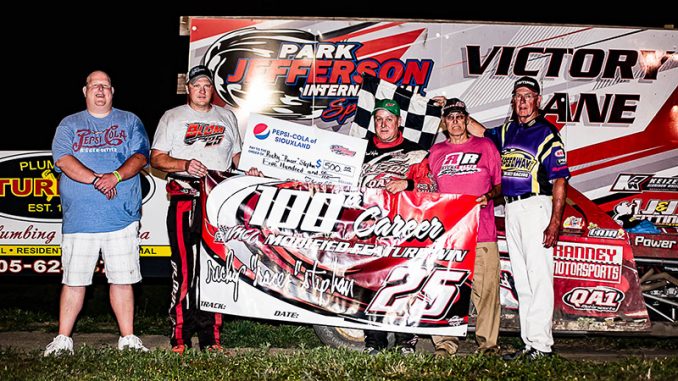 SOUTH SIOUX CITY, Neb. – Ricky Stephan started his IMCA Modified career 30-odd years ago at Park Jefferson Speedway.
Fittingly, he returned there on July 8 to win his 100th feature in the division.
"It's really my home track and I was racing in front of my home fans," Stephan said. "Plus, Pepsi of Siouxland sponsored the night and I'm a Pepsi guy."
"It was about time. I knew I was capable of doing it," he continued. "Winning 100 features puts you in the history book. It's an elite group."
While Stephan is the 50th driver in division history to reach 100 wins for his career, he's got a re­sume full of equally impressive accomplishments.
He earned his first of 16 career track championships, at Buena Vista Raceway, in his rookie 1987 season. He became just the ninth driver to win four track titles in a single season last year.
Add in a couple Side Biter Chassis North Central Regional championships (2001 and 2003) and six Allstar Performance State championships – three in Iowa and a current streak of three in a row in South Dakota – and there's no disputing the fact that Stephan brings a unique list of achieve­ments to any discussion about the best drivers ever to wheel an IMCA Modified.
From South Sioux City, Neb., Stephan turns 51 the day after the upcoming IMCA Speedway Mo­tors Super Nationals fueled by Casey's ends.
He's qualified for the big dance on six occasions while making a pair of Fast Shafts All-Star Invita­tional starts.
Stephan's Racer nickname is an obvious one and was bestowed on him by Wayne King Jr., the son of his long-time sponsor Wayne Sr. Stephan, in turn, began calling Wayne Jr. The Little King.
Stephan started racing in 1984 in a limited late model class – his father Richard has only missed one of his races in all those years – and has become accustomed to the growing number of young faces surrounding him at drivers' meetings.
"Kids are faster now and I'm the veteran. It's hard to believe I was like that 30 years ago," he said. "I hope I can carry on and get some more wins."