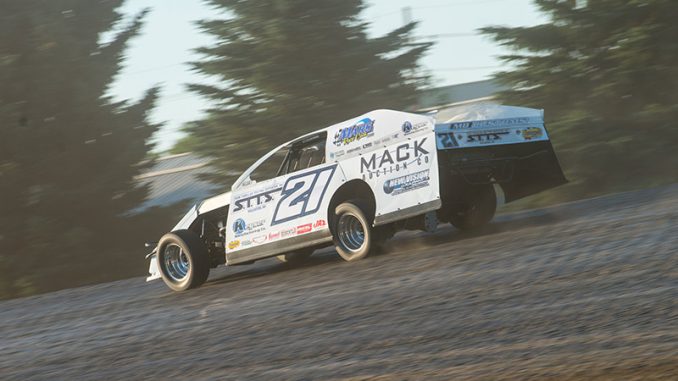 MANDAN, N.D. (July 13) – Aaron Turnbull took the checkers while Hunter Marriott took the title in the Kupper Chevrolet Dakota Classic IMCA Modified Tour finale at Dacotah Speedway.
Turnbull, the 2013 tour champion, earned $2,300 and a spot on the Fast Shafts All-Star Invita­tional ballot for his Thursday night heroics at Mandan, dominating from his front row start.
Johnny Scott brought the point lead to town, but was relegated to a mid-pack finish after suffering a flat tire. That opened the door for Marriott, who clinched a second straight Dakota Classic crown with his runner-up showing.
A handful of cautions gave both Marriott and Justin O'Brien shots at the leader but Turnbull kept the door closed on each occasion.
Marriott closed the gap to just a few car lengths as the frontrunners entered lapped traffic late in the contest but Turnbull held on for the win. Jordan Grabouski, O'Brien and Jason Wolla made up the top five.
Elijah Zevenbergen concluded another impressive week, scoring his third IMCA Sunoco Stock Car tour victory to cement his fourth career championship in five years.
Matt Speckman and Curt Lund took turns in the lead before Zevenbergen took over up front.
Zevenbergen had pulled away before a late caution, then saw Lund drive by after the ensuing restart. They stayed virtually side-by-side in the closing laps before Zevenbergen got enough momen­tum coming out of the final turn to edge ahead for the win.
Lund, Austin Daae, Dalton Flory and Speckman rounded out the top five.
Dacotah Speedway hosts the Corral Sales Legendary special on Friday. IMCA Modifieds will race for $10,002 to win in an event broadcast by IMCATV.
Feature Results
Modifieds – 1. Aaron Turnbull, Estevan, Sask.; 2. Hunter Marriott, Brookfield, Mo.; 3. Jordan Grabouski, Beatrice, Neb.; 4. Justin O'Brien, West Union, Iowa; 5. Jason Wolla, Ray; 6. Ricky Thornton Jr., Chandler, Ariz.; 7. Jay Noteboom, Hinton, Iowa; 8. Mark Dahl, Bismarck; 9. Travis Hagen, Williston; 10. Jeremy Keller, Mandan; 11. Kyle Brown, Madrid, Iowa; 12. Tim Ward, Har­court, Iowa; 13. Jason Grimes, Jamestown; 14. Joel Rust, Grundy Center, Iowa; 15. Marlyn Seid­ler, Underwood; 16. Billy Kendall, Baxter, Minn.; 17. Johnny Scott, Cameron, Mo.; 18. Cody Bau­man, Eureka, Ill.; 19. Brock Bauman, Eureka, Ill.; 20. Steven Pfeifer, Minot; 21. Jesse Hoeft, For­est City, Iowa; 22. Travis Olheiser, Dickinson; 23. Shawn Strand, Mandan; 24. Quentin Kinzley, Bismarck; 25. Tyler Peterson, Hickson; 26. Lance Mari, Imperial, Calif.; 27. Tom Berry Jr., Med­ford, Ore.; 28. Curt Lund, Redwood Falls, Minn.; 29. Jeff Taylor, Cave City, Ark.; 30. Mike Greseth, Harwood.
Stock Cars – 1. Elijah Zevenbergen, Ocheyedan, Iowa; 2. Curt Lund, Redwood Falls, Minn.; 3. Austin Daae, Estevan, Sask.; 4. Dalton Flory, Williston; 5. Matt Speckman, Sleepy Eye, Minn.; 6. Angel Munoz, Lamar, Colo.; 7. Eric Harpole, Bismarck; 8. Chris Ellis, Stanley; 9. Joe Flory, Willis­ton; 10. Kyle Pfeifer, Hill City, Kan.; 11. Jake Nelson, Williston; 12. Joren Boyce, Minot; 13. Perry Misner, Albert, Kan.; 14. Michael Vennes, Minot; 15. Jeremy Swanson, Westby, Mont.; 16. Chad Sterling, Stockton, Kan.; 17. Jayden Bears, Smithville, Mo.; 18. Jeffrey Abbey, Comanche, Texas; 19. Keith Mattox, Ray; 20. Jody York, Lubbock, Texas; 21. Beau Deschamp, Bottineau; 22. Wes­tin Abbey, Comanche, Texas; 23. Scott Gartner, Aurora, Colo.; 24. Cody Dignan, Burlington.