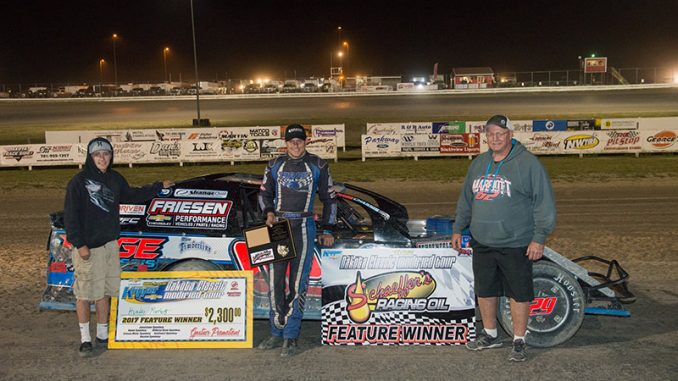 DICKINSON, N.D. (July 12) – Hunter Marriott raced to a couple firsts Wednesday night, en route to his third win of the Kupper Chevrolet Dakota Classic Tour for IMCA Modifieds.
As a result, the defending champion is just three points out of the top spot in the point standings heading into the Thursday tour finale.
Marriott caught Justin O'Brien for the lead, then withstood numerous challenges to the finish of the 30-lap main event at Southwest Speedway before picking up his latest $2,300 winner's check.
The ninth starting Marriott had raced three-wide with point leader Johnny Scott and O'Brien, follow­ing O'Brien into second and ultimately taking charge up front.
He became the first driver since Jeff Taylor in 2014 to win back-to-back Dakota Tour Modified features, and the first since Taylor in 2012 to win three times in the same year.
O'Brien finished second for the second straight night. Scott was third, Jordan Grabouski fourth and Jay Noteboom fifth.
Joe Flory was the $800 IMCA Sunoco Stock Car winner after regaining the lead from fellow front row starter Matt Speckman.
Flory kept his car glued to the very inside of the speedway while Speckman put his car right up on the cushion and used his momentum to take over the front spot. Flory parlayed a restart just a few laps later to get the spot back, then pulled away in the closing circuits.
Westin Abbey, Curt Lund, Speckman, and point leader Elijah Zevebergen completed the top five.
Both Marriott and Flory earned series career fourth checkers at Dickinson.
The sixth and final event of the Kupper Chevrolet Dakota Classic Tour is Thursday at Dacotah Speedway in Mandan.
That race, and Friday's Corral Sales-sponsored $10,002 to win Legendary special for the Modi­fieds at Mandan will be broadcast by IMCATV.
Feature Results
Modifieds – 1. Hunter Marriott, Brookfield, Mo.; 2. Justin O'Brien, West Union, Iowa; 3. Johnny Scott, Cameron, Mo.; 4. Jordan Grabouski, Beatrice, Neb.; 5. Jay Noteboom, Hinton, Iowa; 6. Jesse Hoeft, Forest City, Iowa; 7. Eddie Belec, Arvada, Colo.; 8. Joel Rust, Grundy Center, Iowa; 9. Hank Berry, Sidney, Mont.; 10. Shawn Strand, Mandan; 11. Travis Hagen, Williston; 12. Cody Bauman, Eureka, Ill.; 13. Jason Wolla, Ray; 14. Spencer Wilson, Minot; 15. Brock Bauman, Eu­reka, Ill.; 16. Jeff Taylor, Cave City, Ark.; 17. Kody Scholpp, Estevan, Sask.; 18. Travis Olheiser, Dickinson; 19. Curt Lund, Redwood Falls, Minn.; 20. Paul Stone, Winton, Calif.; 21. Jason Briese, Cleghorn, Iowa; 22. Travis Ulmer, Mandan; 23. Kyle Slader, Muskogee, Okla.; 24. Masen Big Ea­gle, Manor, Sask.; 25. Lance Mari, Imperial, Calif.; 26. Tom Berry Jr., Medford, Ore.; 27. Billy Ken­dall, Baxter, Minn.; 28. Tracy Domagala, Bismarck; 29. Marlyn Seidler, Underwood; 30. Mike Hansen, Dickinson.
Stock Cars – 1. Joe Flory, Williston; 2. Westin Abbey, Comanche, Texas; 3. Curt Lund, Redwood Falls, Minn.; 4. Matt Speckman, Sleepy Eye, Minn.; 5. Elijah Zevenbergen, Ocheyedan, Iowa; 6. Chad Sterling, Stockton, Kan.; 7. Kyle Pfeifer, Hill City, Kan.; 8. Eric Harpole, Bismarck; 9. Jeremy Swanson, Westby, Mont.; 10. Angel Munoz, Lamar, Colo.; 11. Perry Misner, Albert, Kan.; 12. Dal­ton Flory, Williston; 13. Austin Daae, Estevan, Sask.; 14. Jake Nelson, Williston; 15. Cody Dignan, Bur­lington; 16. Beau Deschamp, Bottineau; 17. Jayden Bears, Smithville, Mo.; 18. Kevin Mattox, Ray; 19. Mike Gotch, Regina, Sask.; 20. Michael Vennes, Minot; 21. Jeffrey Abbey, Comanche, Texas; 22. Joe O'Bryan, Round Rock, Texas; 23. Jason Schoenberger, Russell, Kan.; 24. Chris Ellis, Stanley.