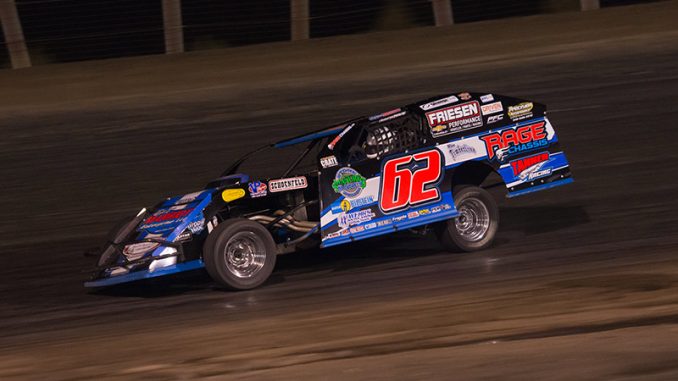 WILLISTON, N.D. (July 11) – Familiar faces were in a familiar place following Kupper Chevrolet Dakota Classic Tour main events at Williston Basin Speedway.
Defending champions Hunter Marriott and Elijah Zevenbergen became the first repeat winners of the 2017 tour on Tuesday night, Marriott in the IMCA Modified feature, Zevenbergen in the headliner for IMCA Sunoco Stock Cars.
Marriott started fifth and was quickly into the lead. Multiple cautions, however, prevented him from checking out. Marriott held off the 12th starting Justin O'Brien and Marlyn Seidler in leading all 30 laps for the $2,300 victory, his ninth in a 2017 Fast Shafts All-Star Invitational ballot qualifying event.
Jeff Taylor and 13th starting Johnny Scott completed the top five. Drivers from 11 states and Canada were represented in the starting grid.
Zevenbergen scored the $800 Stock Car checkers after starting fourth and completing a three-wide pass of Austin Daae and Dalton Flory for the lead.
Daae and Flory battled over second while sticking close to the leader. The front trio got into lapped traffic late but neither challenger found a way past Zevenbergen.
Flory, Daae, Joe Flory and Curt Lund finished second through fifth, respectively.
Zevenbergen had won the tour opener Saturday at Jamestown. Marriott prevailed the next night at Minot.
The fifth installment of the Dakota Classic Tour is Wednesday at Southwest Speedway in Dickin­son with the finale at Mandan's Dacotah Speedway on Thursday.
Both programs, as well as the $10,002 to win Friday, July 14 Corral Sales Legendary 50 Modified special at Mandan, will be broadcast by IMCATV.
Feature Results
Modifieds – 1. Hunter Marriott, Brookfield, Mo.; 2. Justin O'Brien, West Union, Iowa; 3. Marlyn Seidler, Underwood; 4. Jeff Taylor, Cave City, Ark.; 5. Johnny Scott, Cameron, Mo.; 6. Masen Big Eagle, Manor, Sask.; 7. Jason Wolla, Ray; 8. Billy Kendall, Baxter, Minn.; 9. Tom Berry Jr., Medford, Ore.; 10. Jesse Hoeft, Forest City, Iowa; 11. Brock Bauman, Eureka, Ill.; 12. Mike Han­sen, Dickinson; 13. Joel Rust, Grundy Center, Iowa; 14. Travis Hagen, Williston; 15. Tim Ward, Harcourt, Iowa; 16. Jordan Grabouski, Beatrice, Neb.; 17. Tracy Domagala, Bismarck; 18. Hank Berry, Sidney, Mont.; 19. Quentin Kinzley, Bismarck; 20. Cody Bauman, Eureka, Ill.; 21. Troy Heu­pel, Williston; 22. Ryan Mikkelson, Jamestown; 23. Tyler Peterson, Hickson; 24. Travis Ol­heiser, Dickinson; 25. Jason Grimes, Jamestown; 26. Allen Kent, West Fargo; 27. Darren Schatz, Wil­liston; 28. Ricky Thornton Jr., Chandler, Ariz.; 29. Jeremy Keller, Mandan; 30. Eddie Belec, Arvada, Colo.
Stock Cars – 1. Elijah Zevenbergen, Ocheyedan, Iowa; 2. Dalton Flory, Williston; 3. Austin Daae, Es­tevan, Sask.; 4. Joe Flory, Williston; 5. Curt Lund, Redwood Falls, Minn.; 6. Cody Dignan, Burling­ton; 7. Kyle Pfeifer, Hill City, Kan.; 8. Chad Sterling, Stockton, Kan.; 9. Jake Nelson, Willis­ton; 10. Jeremy Swanson, Westby, Minn.; 11. Angel Munoz, Lamar, Colo.; 12. Matt Speckman, Sleepy Eye, Minn.; 13. Joren Boyce, Minot, N.D.; 14. Jody York, Lubbock, Texas; 15. Jeffrey Abbey, Comanche, Texas; 16. Beau Deschamp, Bottineau; 17. Westin Abbey, Comanche, Texas; 18. Michael Vennes, Minot; 19. Perry Misner, Albert, Kan.; 20. Mike Gotch, Regina, Sask.; 21. Justin Bachmeier, Williston; 22. Scott Sim, Williston; 23. Keith Mattox, Ray; 24. Jason Kniffen, Minot.