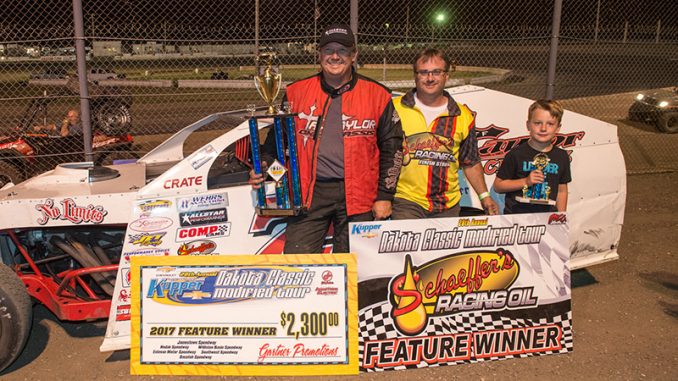 JAMESTOWN, N.D. (July 8) – Spencer Wilson laughed when he was asked if he was ready to consider himself an IMCA Modified special series specialist.
The answer was no – not yet, anyway.
With a track record 100 Modifieds checked in for opening night, Wilson led all 30 laps of Satur­day's 28th annual Kupper Chevrolet Dakota Classic Modified Tour main event at Jamestown Speedway. The win paid $2,300.
Wilson had raced his way onto the Fast Shafts All-Star Invitational ballot in February with a win in the Arizona Modified Tour. The Saturday checkers came on a night when Modified drivers from 17 states and two Canadian provinces converged on Jamestown.
"I enjoy going to big shows like this and racing with this level of competition," said Wilson. "This was a great group of drivers. I knew I could run with them. I just needed to stay smart and not overdrive the car."
Wilson pulled away from 2015 champion Ricky Thornton Jr. and Johnny Scott following a series of restarts. Cody Baumann and Tracy Domagala rounded out the top five.
Passing was no problem for 2014 champion Jeff Taylor and defending tour king Hunter Marriott who started 28th and 29th, respectively, and rocketed to ninth and 10th-place finishes.
"We've been to Jamestown two or three times before and always for the tour," said Wilson, who got on the road to Minot and had the luxury of sleeping in his own bed before the night two show at his hometown Nodak Speedway. "It's a little higher on the totem pole now as far as being one of my favorite tracks."
The single-night Modified car count record for the tour is 101, set at last year's finale at Dacotah Speedway.
Three-time and defending IMCA Sunoco Stock Car tour champion Elijah Zevenbergen picked up right were he left off last year, in victory lane.
After an early flat tire sidelined contender Chad Sterling, Zevenbergen passed Aaron Olson and then caught Angel Munoz for the lead midway through the 25-lapper
Both Munoz and Olson had shots at Zevenbergen following late-race restarts, but neither could find the way by and deny Zevenbergen the $800 checkers. Munoz, 2014 champion Dalton Flory, who started 19th, and Olson rounded out the top four.
A track record 41 Stock Cars ran at Jamestown. Both divisions are in action Sunday at Nodak. Race time is scheduled for 6 p.m.
All six Dakota Tour programs are broadcast by IMCATV.
Feature Results
Modifieds – 1. Spencer Wilson, Minot; 2. Ricky Thornton Jr., Chandler, Ariz.; 3. Johnny Scott, Cameron, Mo.; 4. Cody Bauman, Eureka, Ill.; 5. Tracy Domagala, Bismarck; 6. Jesse Hoeft, For­est City, Iowa; 7. Jordan Grabouski, Beatrice, Neb.; 8. Jason Grimes, Jamestown; 9. Jeff Taylor, Cave City, Ark.; 10. Hunter Marriott, Brookfield, Mo.; 11. Tom Berry Jr., Medford, Ore.; 12. Jason Wolla, Ray; 13. Lance Mari, Imperial, Calif.; 14. Paul Stone, Winton, Calif.; 15. Josh McGaha, Abilene, Texas; 16. Shawn Strand, Mandan; 17. Jeremy Keller, Mandan; 18. Troy Heupel, Willis­ton; 19. Jamie Trautner, Felton, Minn.; 20. Dallas Rice, Minot; 21. Tyler Hall, Fertile, Minn.; 22. Tyler Wagner, Weyburn, Sask.; 23. Greg Metz, Washington, Kan.; 24. Joel Rust, Grundy Center, Iowa; 25. Mike Greseth, Harwood; 26. Hank Berry, Sidney, Mont.; 27. Mark Dahl, Bismarck; 28. Brad Hartigan, Dickinson; 29. Steven Pfeifer, Minot; 30. Corey Dripps, Reinbeck, Iowa.
Stock Cars – 1. Elijah Zevenbergen, Ocheyedan, Iowa; 2. Angel Munoz, Lamar, Colo.; 3. Dalton Flory, Williston; 4. Aaron Olson, Mekinock; 5. Curt Lund, Redwood Falls, Minn.; 6. Eric Harpole, Bismarck; 7. Perry Misner, Albert, Kan.; 8. Jake Nelson, Williston; 9. Joe Flory, Williston; 10.  Rick Schulz, Horace; 11. Michael Vennes, Minot; 12. Kyle Pfeifer, Hill City, Kan.; 13. Cody Nelson, Kenmare; 14. Beau Deschamp, Bottineau; 15. Jody York, Lubbock, Texas; 16. Jordan Durward, Grand Forks; 17. Alan Bertsch, Minot; 18. Scott Sim, Williston; 19. Jeremy Swanson, Westby, Mont.; 20. Jason Schoenberger, Russell, Kan.; 21. Duffy Froemke, Lisbon; 22. Scott Gartner, Bis­marck; 23. Scott Yale, Minot; 24. Chad Sterling, Stockton, Kan.; 25. Rob VanMil, Barnesville, Minn.; 26. Dustin Reeh, Council Bluffs, Iowa; 27. Tim Compson, Valley City.