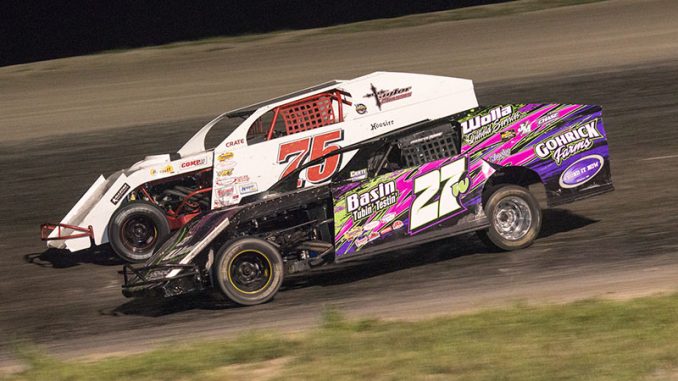 By Tom Berg
Dakota Classic Modified Tour: From a Dream to A Premier National Tour
In 1990 John Gartner had a vision about having a series of dirt-track racing during the summer in North Dakota, similar to Speedweeks in Florida during the week of the Daytona 500 each February. Out of that vision was born the Dakota Classic Modified Tour.
Some thought the idea was crazy. As it turns out, Gartner's tour dream was far from crazy; it has blossomed into the largest Modified touring series in the United States.
Sponsored by Kupper Chevrolet of Mandan, the Dakota Classic Modified Tour is entering its 28th year in 2017 and begins on Saturday, July 8 at Jamestown Speedway in Jamestown. That is followed by stops at Nodak Speedway in Minot, Estevan Motor Speedway in Saskatchewan, Canada, Williston Basin Speedway in Williston, Southwest Speedway in Dickinson and wrapping up on July 13 at Dacotah Speedway in Mandan.
Incidentally, the six-night tour will be followed by the Legendary 50 at Dacotah Speedway, an event paying $10,002 to win. The Dakota Classic tour also includes IMCA Sunoco Stock Cars.
The tour, which attracts drivers from all over the nation, had its best year in terms of car counts in 2016, averaging a record 90.44 IMCA Modifieds per event. The highest car count came at Dacotah Speedway in Mandan last year with a whopping 101 IMCA Modifieds. The numbers may surprise some, but not Gartner, who not only was the founder of the tour but remains the tour director.
"I said many years ago we would hit 100 cars in one night and I was probably thought to be out of my mind," Gartner said. "However, with the help of quite a few of my friends who believed in my dream, we reached that milestone and now the Corral Sales Legendary $10K to win race right after the tour is bringing in not only good car counts, but the best Modified drivers in the world are now here. My new goal is to have 50 IMCA Sunoco Stock Cars and we could have that in a year or two as that part of the tour is really taking off."
The winner of each feature event makes $2,300 in the Modifieds and $800 in the Stock Cars. To start a 30-car Modified A-Main, drivers get $300. There is a large incentive to make the feature as cars who take the green flag in the B feature will receive $25. But with 90-100 Modifieds in attendance, making the feature is an enormous challenge. There is more than $20,000 available in contingency prizes as well, Gartner said. The top 10 in the Modified points at the end of the tour share a $2,000 point fund.
Gartner is the high school principal at New Town High School in North Dakota. He is the lone staff member for the tour, which takes a lot of time in terms of scheduling, lining up sponsors and all the paperwork. He is also a race director and board member at Dacotah Speedway and both of his sons race – and he finds time to help work on the cars.
"All of these things are labors of love for me," Gartner said.
Gartner says several factors have gone into the growth of the tour, including sanctioning IMCA. IMCA is a sanctioning body that spans across the nation.
"First, IMCA sanctioning has helped as cars come here from all over the US–17 states so far this year alone," he said. "IMCATV has helped this tour get exposure to different parts of the country that didn't even know we raced up here in North Dakota. Having common payouts, rules, procedures, flagmen and a consistent director that works on this tour 365 days a year has solidified our reputation as a place to race that will be fair, consistent and treat everyone with good, old-fashioned North Dakota hospitality"
"Friendships have been forged from all parts of the US and in Canada and they just love our treatment out here," he continued. "This series pays almost all its sponsorship money back to the driver and does not favor one promoter making a great deal of money. It goes to the drivers and that is what should happen as they put on a hell of a show."
The drivers from out-of-state have built friendships with the local North Dakota drivers, Gartner said. As a result, many North Dakota area drivers let the out-of-town drivers use their shops, tools and parts during the tour.
"I'm told time and again our people here treat the out-of-town drivers very well and that is sometimes quite unheard of in the rough and tumble world of dirt track racing," Gartner said.
But ultimately, the success of the series starts with North Dakota drivers who follow and support the tour.
"It's crucial and without the local cars we wouldn't have near the car count," Gartner said. "Our local cars are very competitive and they bring out their 'A' game when the tour starts as the competition is very tough. Just to make the feature is sometimes a local driver's career highlight. We have a nightly draw and have never used passing points as a way to qualify for the feature. This keeps some guys out who want to start last in their heat to pass as many cars as they can to get that up front starting spot for the feature. With our draw system, that local guy still has a good chance if he draws well and drives his heart out to get that coveted heat win and a start in the feature."
There is another aspect of growth and that is television. IMCATV carries all six races on a pay-per-view basis and allows fans from all over the country to watch the tour events. There is also a reality series called Dirt Knights that is filming during the tour that will appear on MAVTV.
Gartner has been the director for 26 of the 28 years of the tour's existence; he raced the other two years in 1992 and 1993. The growth and popularity of the tour is a source of pride for him.
"I am most proud that I can work with six very different tracks who let me bring in a truly national event in a state far off the beaten path in terms of population and reputation, to run a series that has great competition, great competitors, and (where) the rich guy doesn't always win," Gartner said. "When I raced the early years of the Tour I didn't have a lot of money to race and I will never forget that when we look at changes for the future."