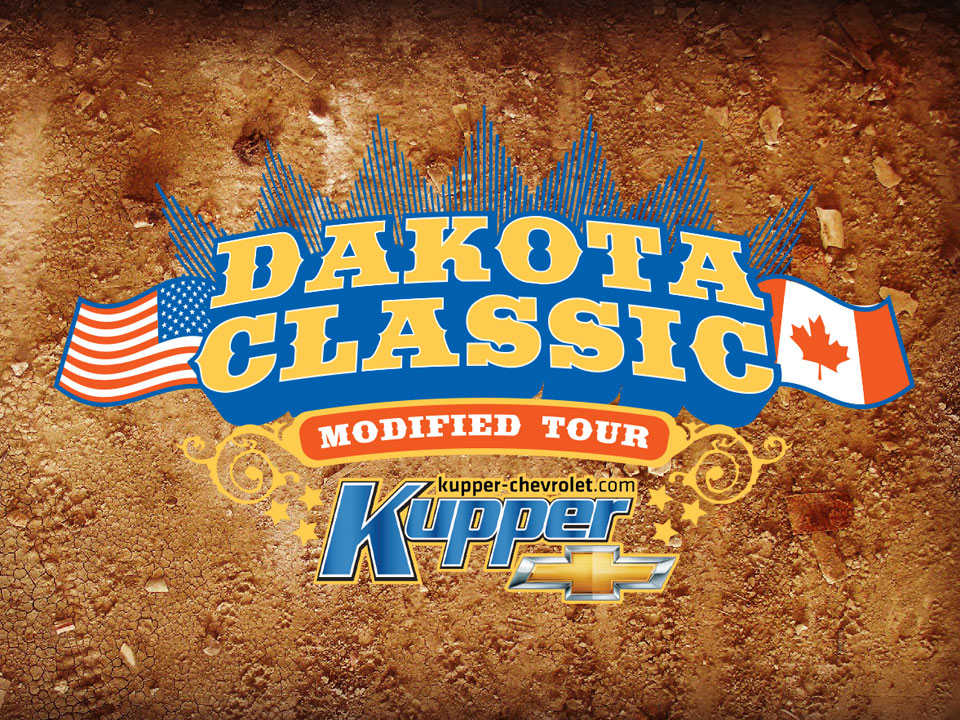 JAMESTOWN, N.D. – Online entries close Thursday, July 6 for the 28th annual Kupper Chevrolet Dakota Classic Modified Tour.
Early entries for the July 8-13 tour are already in hand from a record 94 IMCA Modified and 41 IMCA Sunoco Stock Car drivers. Seventeen states and Canada are already represented in pre-registra­tion numbers.
The tour starts on Saturday, July 8 at the Statesman County Fairgrounds Jamestown Speedway track in Jamestown. From there the Tour goes to Nodak Speedway on the North Dakota State Fairgrounds in Minot on Sunday, July 9. Round three takes the tour north of the border to Estevan, Sask., Motor Speedway on Monday, July 10.
The tour's next stop is Tuesday, July 11 at Williston Basin Speedway, located at the Upper Mis­souri Fairgrounds. Round number five is in Dickinson and Southwest Speedway on Wednesday, July 12. The tour wraps up its six-day run at Mandan's Dacotah Speedway on Thursday, July 13.
The Corral Sales Legendary 50, a special $10,002 to win race sponsored by Corral Sales, will be held on Friday, July 14 at Mandan for all tour drivers who competed at a minimum of three Dakota Tour events.
Driver payout is another tour record with $2,300 being paid at all tracks for the 30-lap IMCA Modi­fied feature winners. All features are 2017 Fast Shafts All-Star Invitational ballot qualifying events.
The tour and Legendary 50 will pay out over $153,000, plus another $16,000 in driver contin­gency prizes.
Tour and Legendary races will be broadcast live on IMCATV. In addition, the tour will be filmed by The Dirt Knights reality show for broadcast this fall on MAVTV.
Racing fans are encouraged to go to the tour website at www.dakotamodtour.com for more infor­mation and a current entry list. Drivers and fans can also contact series director John Gartner at 701 202-6075.
Modified drivers now pre-entered are:
Randy Artz, Battle Mountain, Nev.; Reese Artz, Battle Mountain, Nev.; Brock Bauman, Eureka, Ill.; Cody Bauman, Eureka, Ill.; Kit Baumann, Washburn; Hank Berry, Sidney, Mont.; Tom Berry Jr., Medford, Ore.; Masen Big Eagle, Manor, Sask.; Scott Bintz, Jamestown; Kevin Bliese, Bath, S.D.; Bland Bohannon, Williston; Pete Bradley, Williston; Chris Bragg, Springtown, Texas; Brian Brennan, Rozet, Wyo.; and Jason Briese, Cleghorn, Iowa.
David Brown, Kellogg, Iowa; Kyle Brown, Madrid, Iowa; Randy Burwick, Hettinger; Jarrett Carter, Lisbon; John Corell, Jamestown; Tracy Domagala, Bismarck; Justin Elmer, Sheridan, Wyo.; Riley Emmel, Estevan, Sask.; Allan Fetzer, Max; John Flory, Williston; Greg Friestad, Valley City; Ja­son Grimes, Jamestown; Mike Hagen, Williston; Travis Hagen, Williston; and Tyler Hall, Fertile, Minn.
Brad Hartigan, Dickinson; Troy Heupel, Williston; Vernon Hill, Black Eagle, Mont.; Rusty Hodges, Beatrice, Neb.; Jesse Hoeft, Forest City, Iowa; Jessie Hoskins, Longdale, Okla.; Jordan Huettl, Minot; Kyler Jeffrey, Williston; Wayne Johnson, Minot; Jeremy Keller, Mandan; Billy Kendall, Bax­ter, Minn.; Allen Kent, West Fargo; Rusty Kollman, Carrington; Tommy Lee, Grenora; and Curt Lund, Redwood Falls, Minn.
Michael McCarthy, Hutto, Texas; Josh McGaha, Abilene, Texas; Les McLenehan, Estevan, Sask.; Lance Mari, Imperial, Calif.; Hunter Marriott, Brookfield, Mo.; Jerry Martin, Moorcroft, Wyo.; Ryan Mikkelson, Jamestown; Clay Money, Penokee, Kan.; Dale Neitzel, Shepherd, Mont.; Jay Noteboom, Hinton, Iowa; Justin O'Brien, West Union, Iowa; Travis Olheiser, Dickinson; Darrell Parsons, Mandan; Travis Peery, Williston; Tim Perkins, Bismarck; Tyler Peterson, Hickson; and Steven Pfeifer, Minot.
Crist Pittenger, Bismarck; Dallas Rice, Minot; Shawn Ritter, Keystone, Iowa; Donald Robinson, Underwood; Lucas Rodin, Marion; Josh Rogotzke, Sanborn, Minn.; Joel Rust, Grundy Center, Iowa; Darren Schatz, Williston; Brent Schlafmann, Bismarck; Kody Scholpp, Estevan, Sask.; Ryan Schroeder, Devils Lake; Jonathan Schumann, Mercer; Johnny Scott, Arroyo Hondo, N.M.; Marlyn Seidler, Underwood; and Kelly Shryock, Fertile, Iowa.
Robert Sigman, Dickinson; Casey Skyberg, Rapid City, S.D.; Kyle Slader, Longdale, Okla.; Paul Stone, Winton, Calif.; Shawn Strand, Mandan; Randy Tarno, Jamestown; Jeff Taylor, Cave City, Ark.; Ricky Thornton Jr., Chandler, Ariz.; Marcus Tomlinson, Turtle Lake; Myles Tomlinson, Turtle Lake; Travis Tooley, Bismarck; Aaron Turnbull, Estevan, Sask.; Travis Ulmer, Mandan; Tyler Wagner, Weyburn, Sask.; Spencer Wilson, Minot; Jason Wolla, Ray; and Justin Zeitner, Malvern, Iowa.
Pre-entered Stock Car drivers include:
Jeffrey Abbey, Comanche, Texas; Westin Abbey, Comanche, Texas; Jayden Bears, Smithville, Mo.; Alan Bertsch, Minot; Tim Compson, Valley City; Austin Daae, Estevan, Sask.; Beau Des­champ, Bottineau; Cody Dignan, Burlington; Jordan Durward, Grand Forks; Chris Ellis, Surrey; Dalton Flory, Williston; Joe Flory, Williston; Scott Gartner, Aurora, Colo.; and Greg Gill, Muscatine, Iowa.
Mike Gotch, Regina, Sask.; Gary Goudy Jr., Stoughton, Sask.; Gary Goudy Sr., Stoughton, Sask.; Eric Harpole, Bismarck; Chris Hortness, Estevan, Sask.; Jason Kniffen, Minot; Matt Lang, Turtle Lake; Curt Lund, Red­wood Falls, Minn.; Keith Mattox, Ray; Kevin Mattox, Ray; Perry Misner, Albert, Kan.; Angel Munoz, Lamar, Colo.; Shane Nehring, Williston; and Cody Nelson, Kenmare.
Jake Nelson, Williston; Joe O'Bryan, Round Rock, Texas; Kyle Pfeifer, Hill City, Kan.; Dustin Reeh, Council Bluffs, Iowa; Jason Schoenberger, Russell, Kan.; Randy Schultz, Swift Current, Sask.; Scott Sim, Williston; Matt Speckman, Sleepy Eye, Minn.; Chad Sterling, Stockton, Kan.; Jeremy Swanson, Westby, Mont.; Michael Vennes, Minot; Jody York, Lubbock, Texas; and Elijah Zevenbergen, Ocheyedan, Iowa.