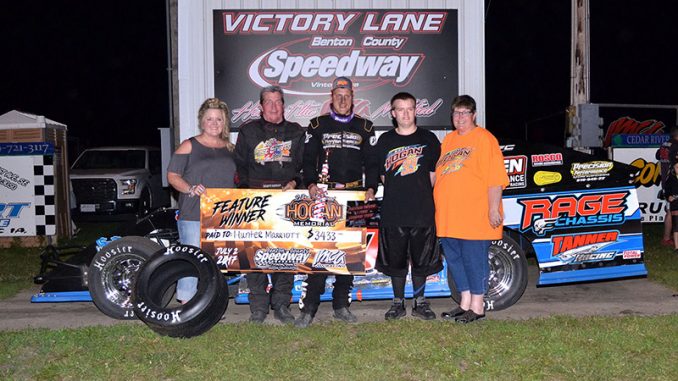 VINTON, Iowa (July 2) – It sounds hard to believe, but even Hunter Marriott needs a confidence booster once in a while.
He got that, and a check for $3,433 Sunday night at Benton County Speedway.
The 15th starting Marriott took the lead 29 laps into the 50-lap Hogan Memorial main event for IMCA Modifieds, then went to the higher line and held off fellow hard charger Tyler Droste for the victory.
"I never count myself out. You always have the chance to win. You've just got to keep your head up and keep digging," said Marriott, who had qualified through his 'B' feature. "I went out there, hit my marks and when I had a chance to get the lead, I took it."
Droste had started 13th. Defending race winner Richie Gustin was third, 11th starting Joel Rust was fourth and Cayden Carter completed his march from 21st starting to round out the top five.
Corey Dripps was looking to add a bookend trophy to the Hogan hardware he took home in 1997 and led the first 25 laps, earning a hefty $1,250 in lap money plus a $250 bonus for leading when the race was stopped at midway.
Droste was quick to take the lead away when the race was restarted. His turn up front lasted three circuits before Marriott hustled by.
Back-to-back cautions on laps 38 and 39 kept the field close but Droste was never able to regain the lead.
The biggest change Marriott made during the five-minute pit stop on the front straight after the first 25 laps was changing his right front shock. He admitted after the race he wasn't even sure when it was the right side of his car took such beating.
"It does a lot of good to win a race like this," said Marriott, also the winner of the Memorial Weekend Prelude special at Vinton and now a qualifier seven times over for the Fast Shafts All-Star Invitational ballot. "It's like you can breathe again. You can't be afraid to get up on the wheel and get after it."
More than 120 cars were entered in the 23rd annual Hogan Memorial, including 43 Modifieds. All seven former Modified main event winners in attendance Sunday were in the starting field.
Damon Murty led John Oliver Jr. across the stripe in the IMCA Sunoco Stock Car main and Nathan Ballard led the first 14 laps, then got the front spot back from Benji Irvine on the final circuit to win the IMCA Sunoco Hobby Stock feature.
Dan Chapman did three separate stints at the head of the Karl Chevrolet Northern SportMod feature field, and led the last eight times around the track in a race that saw frequent three- and four-wide battles for the front.
Feature Results
Modifieds – 1. Hunter Marriott, Brookfield, Mo.; 2. Tyler Droste, Waterloo; 3. Richie Gustin, Gilman; 4. Joel Rust, Grundy Center; 5. Cayden Carter, Oskaloosa; 6. Chris Simpson, Oxford; 7. Jeff Aikey, Cedar Falls; 8. Corey Dripps, Reinbeck; 9. Scott Hogan, Vinton; 10. Jeff Larson, Freeport, Ill.; 11. Darin Duffy, Urbana; 12. Cody Bauman, Eureka, Ill.; 13. Racer Hulin, Laurel; 14. Brennen Chipp, Waterloo; 15. Patrick Flannagan, Cedar Rapids; 16. Jerry Dedrick, Vinton; 17. Zach Less, Manchester; 18. J.D. Auringer, Waterloo; 19. Todd Shute, Des Moines; 20. Brandon Maitland, Waterloo; 21. Ryan Maitland, Waterloo; 22. Lance Mari, Imperial, Calif.; 23. Randy Havlik, Ankeny; 24. Steve Stewart, Burlington; 25. Ed Thomas, Waterloo; 26. Vern Jackson, Waterloo.
Stock Cars – 1. Damon Murty, Chelsea; 2. John Oliver Jr., Danville; 3. Nathan Wood, Sigourney; 4. Kyle Brown, Madrid; 5. Scooter Dulin, Cedar Rapids; 6. Norman Chesmore, Rowley; 7. Bob Ahrendsen, Cedar Rapids; 8. Shane Ebaugh, Evansdale; 9. Larry Karcz, Pulaski, Wis.; 10. Jeremy Pundt, Donnellson; 11. Michael Sheen, Lamesa, Texas; 12. Justin Stander, Vinton; 13. Michael Larsen, Monroe City, Mo.; 14. Scott Siems, Shellsburg; 15. Curtis Roster, Vinton; 16. Jay Schmidt, Tama; 17. Scott Bailey, Carlisle; 18. Shane Paris, Muscatine; 19. Aaron Karcz, Pulaski, Wis.; 20. Mitchell Evens, Independence; 21. Justin Temeyer, Independence; 22. Jeff Mueller, Albion; 23. Brandon Jacoby, Waterloo; 24. Buck Swanson, Waterloo.
Northern SportMods – 1. Dan Chapman, Clarence; 2. Sam Wieben, Dysart; 3. Jake McBirnie, Boone; 4. Joe Docekal, Dysart; 5. Kyle Bentley, Fairbank; 6. Frank Packer, Queensland, Aus.; 7. Tony Olson, Cedar Rapids; 8. Gage Neal, Ely; 9. Kyle Olson, Cedar Rapids; 10. Lucas Lundry, Maynard; 11. Dakoda Sellers, Waverly; 12. Brandon Tharp, Center Point; 13. Scott Meyers, Newhall; 14. Mike McNeal, Van Horne; 15. Rob Aimers, Marion; 16. Brian Sondag, Urbana; 17. Matt Petrzelka, Norway; 18. Danny Dvorak, Vinton; 19. Ryan King, Montour; 20. Brian Kauffman, Cedar Rapids; 21. Ethan Braaksma, Newton; 22. Curt Hilmer, Dysart; 23. Mike McDonald, Cedar Rapids; 24. Ben Chapman, Clarence; 25. Aaron Mitchell, Palo; 26. Joey Schaefer, Waterloo; 27. Jeremy Lerch, Vinton.
Hobby Stocks – 1. Nathan Ballard, Marengo; 2. Benji Irvine, Oelwein; 3. Justin Wacha, Vinton; 4. Brett Vanous, Quasqueton; 5. August Bach, Reinbeck; 6. Daniel Wauters, Iowa City; 7. Matt Pohlman, Keystone; 8. Jacob Floyd, Cedar Rapids; 9. Eric Knutson, Slayter; 10. Leah Wroten, Independence; 11. Justin Ginther, Independence; 12. Derrick Thran, Grundy Center; 13. Matt Brown, Dysart; 14. Aaron Rudolph, Grand Junction; 15. Gabe Phelps, Vinton; 16. Kinzie Ritter, Keystone; 17. Leighton Potter, Waterloo; 18. Kyle Dulin, Keystone; 19. Randy Byerly, Tipton; 20. Andrew Burg, Carlisle; 21. Mike Kimm, Vinton; 22. Scott Siems, Cedar Rapids; 23. Zach Swanson, Waterloo.