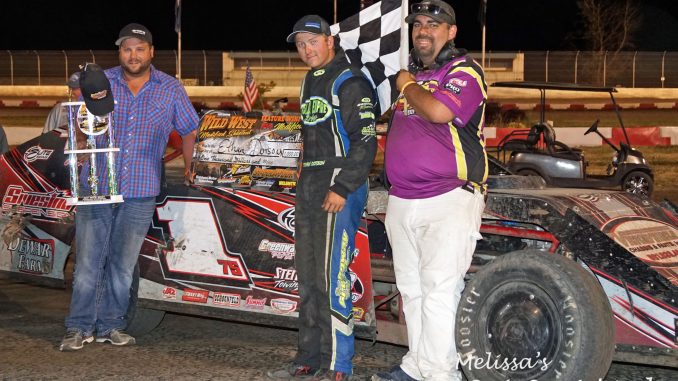 By Ben Deatherage
LEBANON, Ore. (June 29) – Ethan Dotson became the first two-time feature winner when the Wild West IMCA Modified Shootout rolled into town Thursday for the first of three events at Willamette Speedway.
Dotson enjoyed a smooth drive to the $1,000 checkers as the Bakersfield, Calif., hotshoe took full ad­vantage of his front row starting position to seize the lead from the start.
Already a Fast Shafts All-Star Invitational candidate, Dotson dominated the race in its entirety as the cautions came out just at the right time before lapped traffic would play a factor.
Jesse Williamson, winner of the Sunset Speedway park event on Wednesday, was second with Brian Thompson, winner of his Thursday "B" qualifier, an impressive third.
The rest of the top five consisted of defending series champion Kellen Chadwick and Cory Sam­ple, who had to come from the back after getting caught up in a lap one incident.
Feature results – 1. Ethan Dotson; 2. Jesse Williamson; 3. Brian Thompson; 4. Kellen Chad­wick; 5. Cory Sample; 6. Dustin Cady; 7. John Campos; 8. Collen Winebarger; 9. Mark Wauge; 10. Grey Ferrando; 11. Wade Taylor; 12. Brett James; 13. Bricen James; 14. Lawrence O'Con­nor; 15. Brad Martin; 16. Craig Hanson; 17. Jeff Lovell; 18. Joey Price; 19. Danny Lauer; 20. Jer­emy Shank.