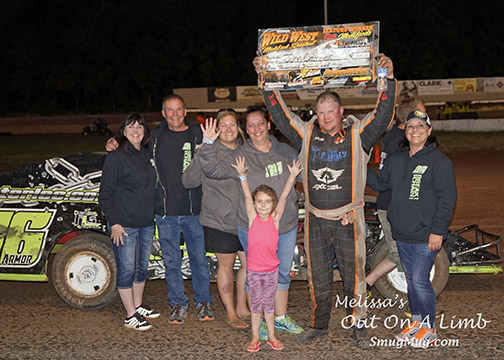 By Ben Deatherage
COTTAGE GROVE, Ore. (June 26) – John Campos earned $1,000 plus a dose of redemption along with the checkers when the Wild West IMCA Modified Shootout returned to Cottage Grove Speedway Monday night.
Campos led the last 16 of 35 laps, running side-by-side with Mark Wauge much of that distance before taking the Fast Shafts All-Star Invitational ballot qualifying victory.
"We were persistent on the bottom," said Campos, who had started seventh. "He (Wauge) was right there. We had that late-race caution on lap 29 and checked out a bit from there."
The former super late model driver has found a more economical division in the IMCA Modifieds. Campos has followed the Shootout each of his three seasons in the sanctioned divisions and had posted second- and fourth-place finishes since being disqualified in post-race tech on opening night.
Wauge set a wicked fast pace from the start but was slowed by a couple cautions. Shortly after a lap 16 restart, he came under pressure from the hard-charging Campos.
Campos completed his pass for the lead on lap 19. Debris brought out the final yellow, with six to go, but Campos couldn't be caught before the checkers flew.
Campos became the fourth different Shootout winner in as many events this season. His career-first tour win made him the 18th different driver in series history to grace victory lane.
Jesse Williamson rallied to a second-place finish. Wauge was promoted to third when that appar­ent place finisher was DQ'd in the tech tent and Jake Mayden and Collen Winebarger completed the top five.
Mayden and sixth running Bricen James were "B" feature winners.
Forty-one drivers from Oregon, California, Nevada, and Montana as well as British Columbia con­tested the Monday show.
Feature results – 1. John Campos; 2. Jesse Williamson; 3. Mark Wauge; 4. Jake Mayden; 5. Collen Winebarger; 6. Bricen James; 7. Brad Martin; 8. Wade Taylor; 9. Randy Brown; 10. Monte Bischoff; 11. Joey Price; 12. Eric Ashley; 13. Jeremy Shank; 14. Grey Ferrando; 15. Brian Thompso; 16. Jeff Lovell; 17. Danny Lauer; 18. Ethan Dotson; 19. D.J. Shannon.