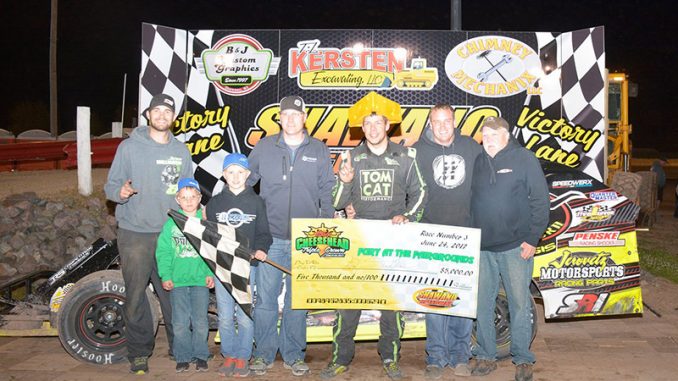 By Scott Owen
SHAWANO, Wis. (June 24) – One night after scoring a $10,000 victory, Kyle Strickler earned an­other $5,000 by picking up the win in the IMCA Modified feature in Shawano Speedway's the Fury at the Fairgrounds.
The 30 lap IMCA feature saw Strickler, the two-time IMCA Speedway Motors Super Nationals fueled by Casey's champion out of Mooresville, N.C., take the lead at the drop of the green flag.
Nebraska racer Dylan Smith, also a former Super Nationals king and with a national title to his credit as well, took the lead on lap two.
Smith used the high side of the track to race to a sizeable advantage over Strickler by lap 10.  Strickler, known by the nickname 'The High Side Tickler,' searched the track looking for an advantage.
Strickler slowly began to close the gap on Smith by using the inside groove of the track.  On lap 21, Strickler got to the inside of the leader exiting turn two and took the lead.
As Strickler and Smith ran 1-2, 10th starting Hunter Marriott raced his way up to third.
In the end, it was Strickler hanging on for the win over Smith. Marriott may have had the fastest car on the track, but needed a caution flag in a race that went green to checkered, and finished third. Jordan Grabouski and Mike Mashl completed the top five.
The Fast Shafts All-Star ballot qualifier was contested by drivers from eight states.
Elijah Zevenbergen scored a $1,000 victory in the IMCA Sunoco Stock Car feature while Jordan Barkholtz won his fourth Karl Chevrolet Northern SportMod feature of the season.
Illinois invader Abe Huls paced the opening two laps of the Stock Car feature before Justin Jacob­sen snagged the lead. A lap four restart put Zevenbergen, another hotshoe with a Super Nation­als crown on his resume, right on Jacobsen's rear bumper.
Zevenbergen took to the high side of the track to take the lead from Jacobsen on the fifth circuit and led the rest of the way to secure his first-ever Shawano Speedway feature victory.  Jacobsen held on to finish second, while Huls made a late-race pass for third.
Sawyer Haese led the first six laps of the Northern SportMod main before Kevin Bethke ran him down.  Haese stayed right with Bethke and as they battled for the lead, Barkholtz reeled in the top two.
Bethke stayed commited to the high side of the track while Barkholtz used the short way around, finally getting the lead for good on lap 12.
Bethke, Haese, Kyle Raddant and Jason Jach rounded out the top five in the caution-free contest.
Feature Results
Modifieds – 1. Kyle Strickler; 2. Dylan Smith; 3. Hunter Marriott; 4. Jordan Grabouski; 5. Mike Mashl; 6. Brian Mullen; 7. Benji LaCrosse; 8. Lucas Schott; 9. Kelly Shryock; 10. Mike Mullen; 11. Lance Mari; 12. Tony Wedelstadt; 13. Marcus Yarie; 14. Mike Wedelstadt; 15. Shane DeMey; 16. Jason Czarapata; 17. Tom Berry Jr.; 18. Lance Arneson; 19. Jerry Wilinski; 20. Johnny Whitman; 21. J.J. Andersen.
Stock Cars – 1. Elijah Zevenbergen; 2. Justin Jacobsen; 3. Abe Huls; 4. Vern Stedjee; 5. Kyle Frederick; 6. Jeremy Christians; 7. Brian Ambrosius; 8. Devin Snellenberger; 9. Tom Riehl; 10. Dan Michonski; 11. Trent Nolan; 12. Mike Schmidt; 13. Caleb Crenshaw; 14. Aaron Stolp; 15. Brad Rohloff; 16. Tyler Wendt; 17. Travis Van Straten; 18. David Hoerning; 19. Gary Kasparek; 20. Josh Mroczkowski.
Northern SportMods – 1. Jordan Barkholtz; 2. Kevin Bethke; 3. Sawyer Haese; 4. Kyle Raddant; 5. Jason Jach; 6. Jordan Bartz; 7. Jeff Schmuhl; 8. Hunter Parsons; 9. Wyatt Block; 10. Brock Saunders; 11. Brianna Ambroziak; 12. Tyler Thiex, 13. Chase Randerson; 14. Bryce Clements; 15. Jayden Schmidt; 16. Dustin Wudstrack; 17. Jordan Reinke; 18. Lloyd Allen; 19. Karah Taycher; 20. Lucas Lamberies.