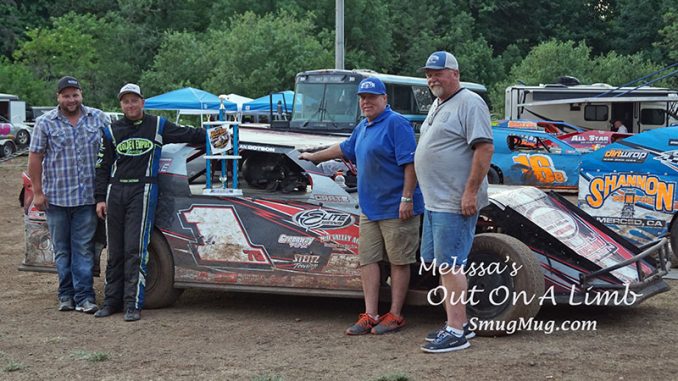 By Ben Deatherage
COTTAGE GROVE, Ore. (June 25) – Another first-time tour winner made his way to victory lane following Sunday's Wild West Modified Shootout main event at Cottage Grove Speedway.
Ethan Dotson took the $1,000 checkers at an event contested by 45 drivers from Oregon, Califor­nia, Nevada, Montana and Colorado, as well as the Canadian province of British Columbia.
Collen Winebarger paced the field early. Several cautions kept the race close and Winebarger was challenged past midway.
The leader had a close call late in the race.  While navigating lapped traffic, he made contact with a slower car and nearly lost the lead before the yellow flag came out for separate incident.
Not too long after the restart, he was passed on the inside by Dotson.
The California charger made the maneuver on lap 31 and took off after that. He built a sizable advantage and won his first career Wild West Modified Shootout feature in only three starts. Dotson became the 17th different driver to have won with the series and the fifth Califor­nian to do so.
Winebarger was second followed by Grey Ferrando, John Campos and Jake Mayden, who had qualified for the feature by running second in his "B" feature.
Feature results – 1. Ethan Dotson; 2. Collen Winebarger; 3. Grey Ferrando; 4. John Campos; 5. Jake Mayden; 6. Bricen James; 7. Curtis Towns; 8. Danny Lauer; 9. Craig Hanson; 10. Tyler Smith; 11. Brad Martin; 12. Matthew Drager; 13. Steven Sturdevant; 14. Joey Price; 15. Mark Wauge; 16. Ryan Gaylord; 17. Dustin Cady; 18. Jesse Williamson; 19. Randy Brown; 20. Aaron Sheelar.