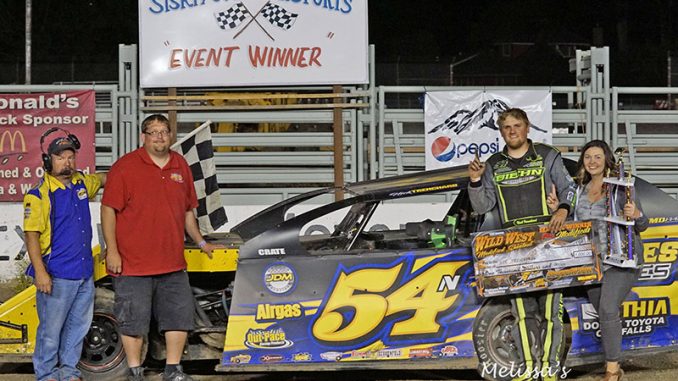 By Ben Deatherage
YREKA, Calif. (June 23) – Siskiyou Motor Speedway hosted opening night of the Wild West Modi­fied Shootout for the first time and Nick Trenchard was on top of his game from start to finish of the Friday night feature.
Trenchard was the $1,000 IMCA Modified feature winner in a lidlifter contested by 33 entries from Cali­fornia, Oregon, Nevada and Colorado.
He grabbed the initial lead after the first two attempts to start the race resulted in cautions. The Klamath Falls, Ore., chauffeur stayed sharp and stayed in front of his challengers following every restart.
Kellen Chadwick mounted a late race-charge toward the front. Chadwick got close to the leader in traf­fic only for another yellow to come out.  On the ensuing restart Chadwick went off the top of the backstretch and flipped. He was not injured but the incident would take too much time to clean up against a strict curfew and resulted in the race being called.
Trenchard got the win in the Rich and Nikki Beihn-owned ride. It marked the second occasion, and first since July 24, 2014 at Cottage Grove Speedway, that he has bested the Wild West Modi­fied Shootout field.
Ethan Dotson became the runner-up when the apparent second-place finisher was disqualified in post-race tech. Randy Brown, Jesse Williamson and Bricen James completed the top five.
Trenchard was already on the Fast Shafts All-Star Invitational ballot.
Feature results – 1. Nick Trenchard; 2. Ethan Dotson; 3. Randy Brown; 4. Jesse Williamson; 5. Bricen James; 6. Grey Ferrando; 7. Collen Winebarger; 8. Tripp Gaylord; 9. Chase Neiman; 10. Chris Neiman; 11. Albert Gill; 12. Wade Taylor; 13. Kellen Chadwick; 14. Ryan Gaylord; 15. James Welshonse; 16. Mark Wauge; 17. Danny Lauer; 18. Carl Berendsen; 19. Kyle Casson.