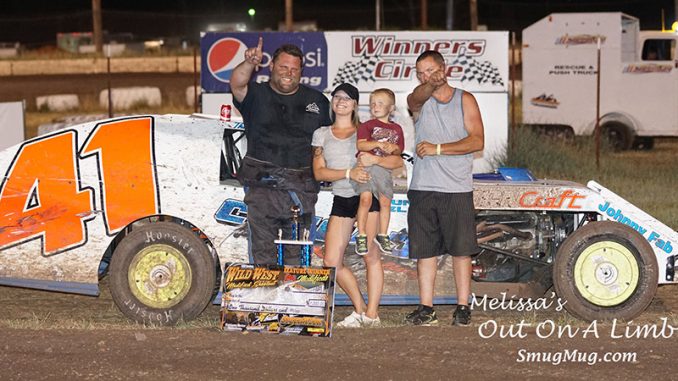 By Ben Deatherage
WHITE CITY, Ore. (June 24) – Danny Lauer scorched the Wild West Modified Shootout field on a scorching Saturday night at Southern Oregon Speedway.
Lauer's $1,000 IMCA Modified win came on a day when the mercury hit 100 and then some. The new Fast Shafts All-Star Invitational ballot qualifier won his career-first Shootout feature after a disappointing 17th place outing in the opener the night before at Yreka.
Ethan Dotson took control right off the bat at White City but was overtaken on the fifth circuit by fellow Californian Lauer.
Lauer built comfortable leads that were erased by cautions.  Despite the restarts, Lauer held on the rest of the distance to become the 16th different main event winner in the history of the Wild West Modified Shootout.
John Campos found some redemption for his post-race disqualification from the opening night feature and finished second, followed by Collen Winebarger, Mark Wauge and Friday winner Nick Trenchard.
Trenchard made his way into the Saturday show by winning the "B" feature
Feature results – 1. Danny Lauer; 2. John Campos; 3. Collen Winebarger; 4. Mark Wauge; 5. Nick Trenchard; 6. Bricen James; 7. Grey Ferrando; 8. Jesse Williamson; 9. 1Randy Brown; 10. Wade Taylor; 11. Chase Neiman; 12. Albert Gill; 13. James Welshonse; 14. Ethan Dotson; 15. Preston Jones; 16. Tripp Gaylord; 17. Chris Neiman; 18. Steven Sturdevant; 19. Larry McKracken; 20. Ryan Gaylord.