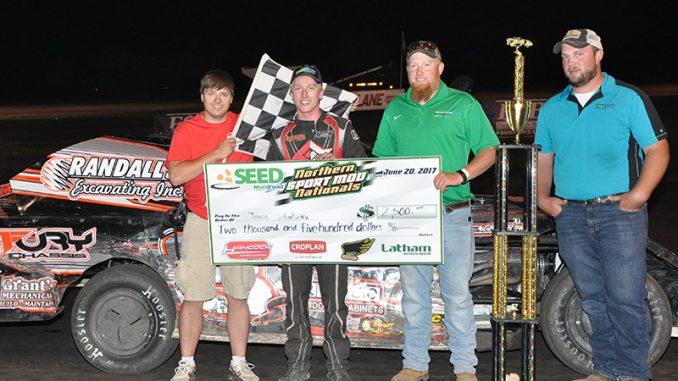 By Chad Meyer
BRITT, Iowa (June 20) – Jesse Skalicky and his crew had been looking for a special or two that didn't interfere with their regular Karl Chevrolet Northern SportMod weekly racing.
After leading every lap of every race he was in at Hancock County Speedway's Northern SportMod Nationals, Skalicky was looking for a place to put his $2,700 in winnings and a very tall trophy for the six-hour tow home to Fargo, N.D.
Skalicky had never raced at Britt before Tuesday night but don't be surprised to see him return soon. He led every lap of his heat race, drew the pole and repeated that flag-to-flag run in the $200 to win dash, then led every circuit in the $2,500 to win main event.
"I have never had a night like this. It's the biggest win I've ever been part of," said Skalicky, whose previous top payday was $400 and dated to his pure stock days. "We had been looking around for specials and one of my crew guys saw this on Facebook."
"Being on a Tuesday, it didn't interfere with my weekly racing," added Skalicky, a regular at Red River Valley Speedway and North Central Speedway. "It was about a six hour trip for my chassis builder, D.J. Kubik at Fury Chassis. He met us at the track and helped."
Jake Sachau spent much of the 30-lapper chasing Skalicky. Sachau pulled even with the leader following a late restart but was unable to complete the pass and Skalicky pulled away over the last three circuits.
Nate Whitehurst, Matt Looft and Sam Wieben completed the top five. Colby Fett was the $100 Croplan by WinField United Hard charger, advancing 11 positions to seventh.
"We won everything we went into tonight. It was a blast. This was by far one of the coolest tracks I've ever been on," Skalicky said following his eight win of the season. "At a race like this, every­thing has to be perfect, from the draw to the heat to staying out of the 'B' and "C" features. We were fortunate to win everything and start up front."
Forty-six Northern SportMods saw action Tuesday at Britt.
Feature results – 1. Jesse Skalicky; 2. Jake Sachau; 3. Nate Whitehurst; 4. Matt Looft; 5. Sam Wieben; 6. Austin Schrage; 7. Colby Fett; 8. Nate Chodur; 9. Austin Luellen; 10. Johnathon Logue; 11. Jake McBirnie; 12. Taylor Musselman; 13. Nick Meyer; 14. Josh Appel; 15.Josh Meyer; 16. Ryan King; 17. Brett Meyer; 18. Kevin Goben; 19. George Nordman; 20. Jared VanDeest; 21. Gerald Curry; 22. Doug Cook; 23. Jared Boumeester; 24. Chase Rudolf.