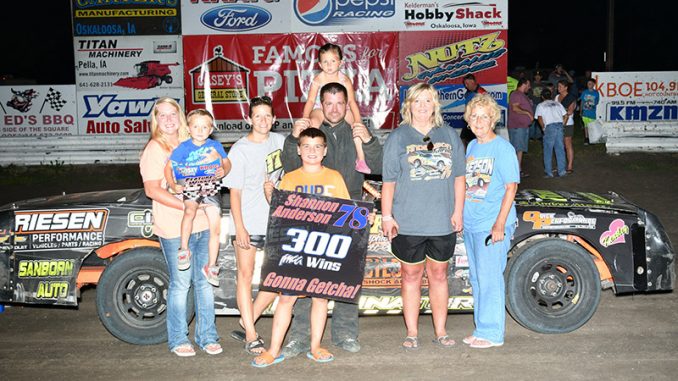 DES MOINES, Iowa (June 14) – Another win, another milestone.
And Shannon Anderson will tell you this one was the most difficult to achieve.
Anderson won for the 300th time in his IMCA Sunoco Hobby Stock career Wednesday at Southern Iowa Speedway. That's the most for any driver in division history and the fourth-highest single division total in IMCA's modern era.
"To win Super Nationals or national championships or 100, 200 or 300 features are all really hard. They're all big accomplishments," said Anderson. "Three hundred feature wins has been the hardest. I would never have guess I'd get that many. I can still remember when I just wanted to win once."
While perfect this season at the Mahaska County Monster, Anderson was happy to put the milestone win in the rearview mirror.
"I was relieved to get it," he said. "Mike Kincaid was really fast. He's always really good there and it wasn't easy for me to get underneath and get the lead."
The six-time national and three-time IMCA Speedway Motors Super Nationals fueled by Casey's champion came into 2017 just 18 checkers shy of the 300 career win mark. He needed just 27 starts this season to get there.
"I was hoping to get my 300th win in August. We're taking more Saturday nights off, which is something I started doing a couple years ago," Anderson explained. "It's tough to get back late from Oskaloosa, get the car ready for the next night at Algona and be at work at 7 a.m. I've been taking some Saturdays off just to catch up on sleep."
He's won features at 20-plus tracks since 2007. Anderson returned to Abilene Speedway in Texas for his first victory this season, then picked up six checkers at Southern Iowa Speedway, five at Marshalltown Speedway and three each at Heartland Park Topeka and Kossuth County Speedway to reach 300.
"We've gone back to the basics and that's one of the things that's helped me out a lot," Anderson noted. "This is my second year back in a Terminator and we've got a great shock program with Bilstein. We're proof that you don't have to spend a lot of money on shocks to be successful."
The three-time All-Star Performance Iowa State champion, Anderson also leads all IMCA Hobby Stock drivers with 23 career track titles.
He and his father Jeff own a combined 578 IMCA feature wins.