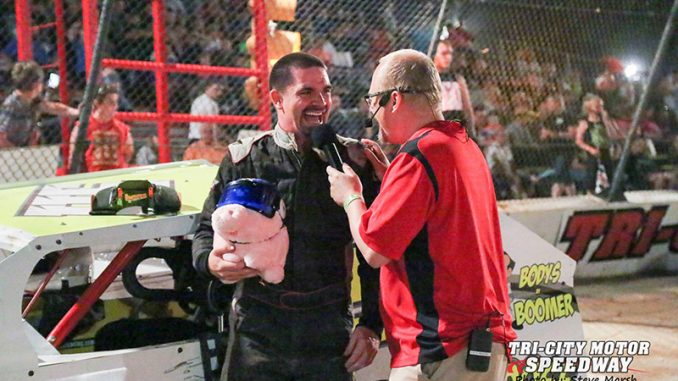 AUBURN, Mich. (June 16) – IMCA Modified career win 1.0 at Tri-City Motor Speedway's Greased Pig 7.0 special put Chaz Pray on the ballot for Fast Shafts All-Star Invitational 14.0.
"I've always had it in my mind that when we won, it would be from further back," Pray said after taking the $1,077 checkers Friday at Tri-City Motor Speedway, his home track. "Tri-City is usually very racy and you don't know where the line is going to be. It was rewarding to run where we wanted to and be able to keep out momentum up."
"It's a big bonus to be on the Fast Shafts ballot," the first-time IMCA Modified feature winner added.
The six-year IMCA campaigner had started the 41-lapper from outside the front row. While numerous cautions interrupted the event, Pray stayed in charge and ended a couple car lengths faster than big brother Matt Szecsodi.
Szecsodi, who also cut his racing teeth in an asphalt modified before switching to dirt, was right behind Pray before a late-race hiccup.
Timmy Near started 11th and finished third. Kody Johnson was fourth and 14th starting Gavin Hunyady completed the top five.
"Typically, I've had a top five car. I was second on season championship night last year and had another second earlier this year," said Pray. "Typically, things haven't gone our way in a race like this. Friday, they did."
Feature results – 1. Chaz Pray; 2. Matt Szecsodi; 3. Timmy Near; 4. Kody Johnson; 5. Gavin Hunyady; 6. Gary VanderMark; 7. Chris Cohoon; 8. Mike Stevenson; 9. Mike Mosier; 10. Kevin McFarland; 11. Ken Zeigler; 12. A.J. Ward; 13. Rusty Zeigler; 14. Austin Wonch; 15. Craig Vance; 16. Preston DeShano; 17. Brenten DeYoung; 18. Myron DeYoung; 19. Chad Wernette; 20. Nick Stormzand.