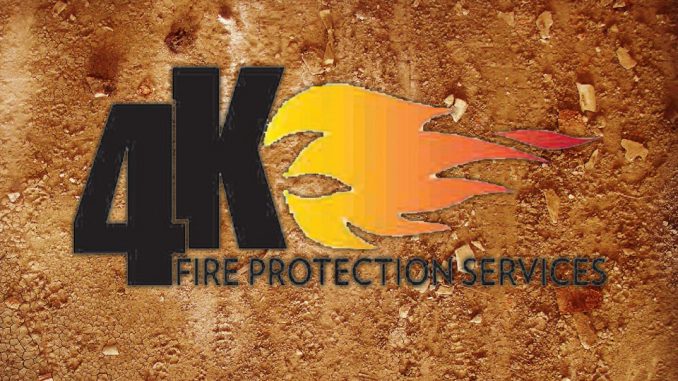 LONG PRAIRIE, Minn. – A single demonstration of Cold Fire is all it took to convince Bob Kunz he needed to find out more about the product.
His 4K Fire Protection Services is a new IMCA sponsor and making Cold Fire, in liquid and aerosol form, available to drivers and sanctioned tracks alike.
"It should be everywhere. If you don't have it, you should," Kunz stated. "The fire extinguisher as we know it was designed 70-plus years ago. Racing as we know it now has so many exotic fuels and Cold Fire puts them out. It's an all-around better product."
National champions in all eight divisions receive a 2-1/2 gallon Cold Fire extinguisher from 4K. The Long Prairie, Minn., company also gives a free 2-1/2 gallon Cold Fire extinguisher to sanctioned tracks for every purchase of the same size extinguisher and five gallons of winter blend Cold Fire concentrate.
"The amount of Cold Fire you need to put out a fire is minimal compared with other materials," said Kunz, who does one of the Cold Fire demonstrations now seen on Youtube. "It's a clear liquid. It's not-toxic, non-corrosive and biodegradable. It's just a better product."
About 10 years ago, a friend had suggested to Kunz – already in a related business – that he look at diversifying. Also a tech inspector for a traveling late model series, Kunz watched a demonstration that showed how quickly Cold Fire worked to extinguish a car fire and decided on the spot that he needed to know more.
"We had already been serving commercial customers with fire suppressors and extinguishers. Our business is family owned and operated and we're all involved in racing," he explained. "We have been a sponsor at Arlington Raceway but wanted to get the word about Cold Fire out to more drivers and tracks. That's what led to our program with IMCA."
"My theory is that if you can build a race car, you don't skimp on safety, especially fire, and Cold Fire should be at the top of your list. If you're going to skimp on safety, stay home," Kunz continued. "Being in the business I am, fire protection should always be the first priority. It's a no-brainer with how much Cold Fire costs."
4K also sells on-board fire suppression systems. Numerous government entities purchase those 4K systems for large equipment use.
More information about Cold Fire and other 4K fire suppression systems and extinguishers is available from Kunz at 320 533-0226. The company website is www.4kfire.com.
"Safety is paramount for us and we are always looking at products that will keep IMCA drivers safe on and off the track," IMCA Marketing Director Kevin Yoder said. "We began talking with Bob at 4K Fire Protection and thought a program of this nature was extremely relevant and something we wanted to pursue."