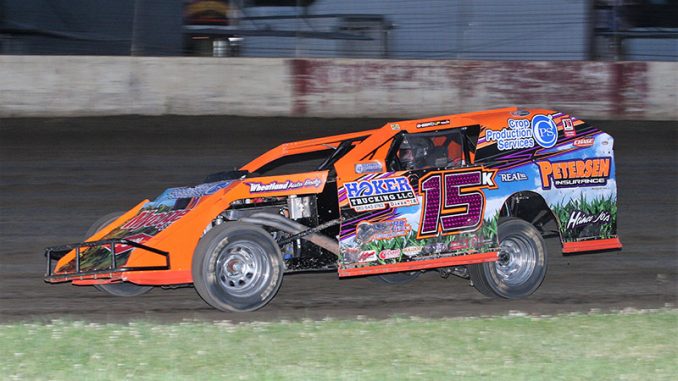 WEST LIBERTY, Iowa (June 13) – A driver best known for his IMCA Late Model prowess contin­ued his run of success in a sanctioned Modified Tuesday night.
Justin Kay held off challenges from Cayden Carter and Joel Rust in winning the Arnold Motor Sup­ply Hawkeye Dirt Tour main event at West Liberty Raceway. The victory paid $1,000 and came just before he completed the unique sweep by winning the Deery Brothers Summer Series Late Model nightcap.
Carter, another two-division star, finished as the runner-up while Rust was third. Kurt Kile and new tour point leader Kelly Shryock completed the top five.
"There's no replacement for being out there and having a lot of laps. A lot of it is knowing what line to run and track conditions," said Kay, who became a seven-time Deery winner at West Lib­erty in final race of the night. "The Modified guys were right behind me. Running, and winning two features wasn't something I could have done without my crew guys. They were awesome."
Kay was pursued early first by Marshalltown tour winner Todd Shute and then by Richie Gustin. Carter closed to third before back-to-back cautions on laps nine and 10.
Carter was up to second before the 30-lapper reached midway and within a carlength of the leader not long after. A slide job put Carter ahead briefly on lap 18 before Kay went low to get the front spot back on the same set of turns
The last yellow of the night waved with six laps left as the frontrunners navigated traffic. Gustin fell off the pace but neither Carter nor Rust could shake Kay from the lead before the checkers.
The win was the HDT career third for Kay, already on the Fast Shafts All-Star Invitational ballot.
Hancock County Speedway's Tuesday, June 27 Salute to Veterans special is next on the Arnold Motor Supply Hawkeye Dirt Tour schedule. The main event at Britt pays $3,000 to win.
Feature results – 1. Justin Kay, Wheatland; 2. Cayden Carter, Oskaloosa; 3. Joel Rust, Grundy Center; 4. Kurt Kile, Nichols; 5. Kelly Shryock, Fertile; 6. Larry Herring, Lone Tree; 7. Kyle Brown, Madrid; 8. Jacob Murray, Hartford; 9. Colby Springsteen, Wapello; 10. David Brown, Kellogg; 11. Derek Walker, Riverside; 12. Eric Barnes, Colona, Ill.; 13. Brett Moffitt, Mooresville, N.C.; 14. Jerry Luloff, Independence; 15. Jordan Walker, Cedar Rapids; 16. Richie Gustin, Gilman; 17. Jesse Sobbing, Malvern; 18. Steve Stewart, Burlington; 19. Todd Shute, Des Moines; 20. Matt Bodman, Muscatine; 21. Derrick Stewart, Ainsworth; 22. Dan Brockert, Grandview; 23. Dan Helm, Sher­rard, Ill.; 24. Chris Zogg, New Liberty.
1st heat – 1. Carter; 2. Shute; 3. Derrick Stewart; 4. Herring; 5. Bodman; 6. Walker; 7. Luloff; 8. Zogg.
2nd heat – 1. Barnes; 2. Shryock; 3. Rust; 4. Gustin; 5. Kyle Brown; 6. David Brown; 7. Sobbing; 8. Moffitt.
3rd heat – 1. Kile; 2. Murray; 3. Springsteen; 4. Kay; 5. Brockert; 6. Steve Stewart; 7. Walker; 8. Helm.