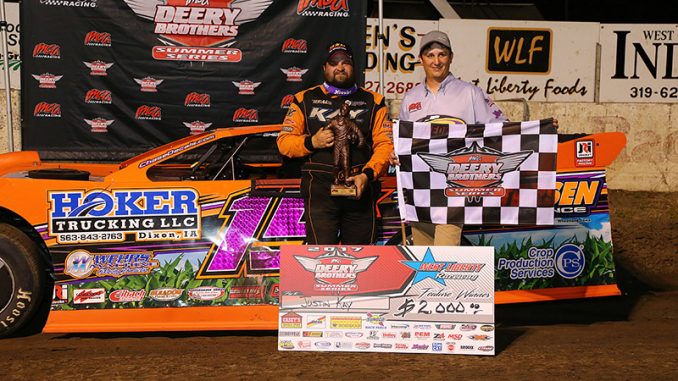 WEST LIBERTY, Iowa (June 13) – Justin Kay's first trip to victory lane Tuesday night at West Liberty Raceway put $1,000 in his pocket.
His second put him in the record book.
Already of the winner of the Arnold Motor Supply Hawkeye Dirt Tour for IMCA Modifieds, Kay be­came the first driver to win Dirt Tour and Deery Brothers Summer Series main events on the same night when he followed with a convincing run to the $2,000 IMCA Late Model tour checkers.
"Winning both races is always the goal. We were really close one night in Tipton (in 2015) when we won the Deery feature and finished second in the Dirt Tour feature," Kay said. "It's really cool to be the first driver to win both events on the same night but I don't think I'll be the only one who does it."
The Deery win was Kay's second straight and fourth of the season. Seven of his career 23 tour wins have come at West Liberty.
The two-time series champion reeled in current point leader Jesse Sobbing for the lead at mid­way. The two swapped lanes and the lead while running in traffic before Kay got a five-car length advantage in the blink of an eye.
His lead was half a straightaway on lap 30 and no one had anything for Kay in the final 10 cir­cuits.
Sobbing settled for second and Denny Eckrich, winner of the April event at West Liberty, was third. Matt Ryan and Kyle Hinrichs completed the top five.
Curt Martin was the $250 Sunoco Race Fuels feature qualifier drawing winner. Nick Marolf, Chad Holladay and Kay were $50 Malvern Bank heat race winners.
Feature results – 1. Justin Kay, Wheatland; 2. Jesse Sobbing, Malvern; 3. Denny Eckrich, Tiffin; 4. Matt Ryan, Davenport; 5. Kyle Hinrichs, Swisher; 6. Chad Holladay, Muscatine; 7. Andy Eckrich, Oxford; 8. Jeremiah Hurst, Dubuque; 9. Darrel DeFrance, Marshalltown; 10. Ron Boyse, Kalona; 11. Jake Neal, Omaha, Neb.; 12. Nick Marolf, Wilton; 13. Ryan Dolan, Lisbon; 14. Rob Moss, Iowa City; 15. Curt Martin, Independence; 16. Curt Schroeder, Newton; 17. Jonathan Brauns, Muscatine; 18. Cayden Carter, Oskaloosa; 19. Joel Callahan, Dubuque; 20. Jeff Tharp, Sherrill; 21. Dave Wada, Wilton; 22. Kevin Kile, West Liberty.
1st heat – 1. Marolf; 2. Ryan; 3. Callahan; 4. Boyse; 5. Andy Eckrich; 6. Kile; 7. Schroeder; 8. Moss.
2nd heat – 1. Holladay; 2. Brauns; 3. Denny Eckrich; 4. DeFrance; 5. Martin; 6. Carter; 7. Wada.
3rd heat – 1. Kay; 2. Dolan; 3. Sobbing; 4. Hinrichs; 5. Neal; 6. Hurst; 7. Tharp.