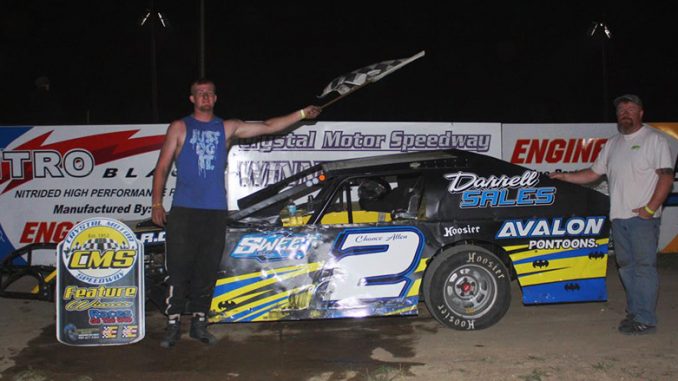 CRYSTAL, Mich. (June 10) – Chance Allen made the most of his opportunities in scoring his career-first IMCA Modified feature win Saturday at Crystal Motor Speedway.
Allen drew the pole and led all 20 laps, holding off Gary VanderMark and earning $1,052, along with a berth on the Fast Shafts All-Star Invitational ballot, for the Optima Batteries Modified Challenge victory.
"It was a good night of racing. I definitely had to be at the top of my game," said Allen. "The bottom was definitely the place to be. I had to hug the tires and Gary was right behind me."
Cautions came out on lap two and again after midway. VanderMark was faster in the turns but Allen hung on to win by a car length.
Nick Stormzand, Jerry Hunt and 10th starting Myron DeYoung were next across the stripe.
Feature results – 1. Chance Allen; 2. Gary VanderMark; 3. Nick Stormzand; 4. Jerry Hunt; 5. Myron DeYoung; 6. John DeYoung Jr.; 7. Chad Wernette; 8. Brenten DeYoung; 9. A.J. Ward; 10. Austin Wonch; 11. Casey Tasker; 12. Brady Hollenbeck; 13. Vern Buskirk; 14. Fred Enos; 15. Brian Roark; 16. Ken Zeigler; 17. Joey Fowler; 18. Scott Glidden; 19. Rusty Zeigler; 20. Chad May.