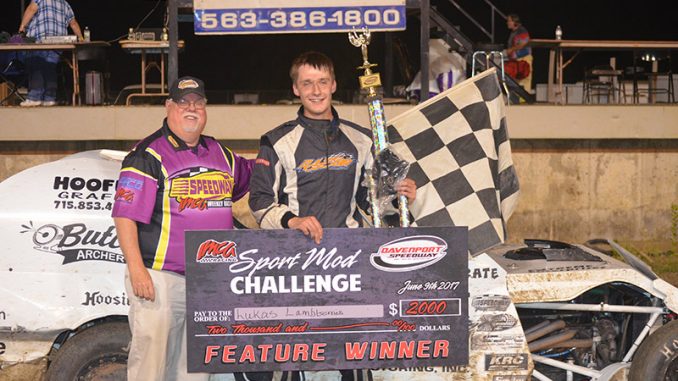 By Mike McGuire
DAVENPORT, Iowa (June 9) – Lucas Lamberies made the long haul to the Davenport Speedway from his home in Clintonville, Wis., pay off with the $2,000 win in Friday's Karl Chevrolet Northern SportMod Challenge.
Lamberies started on the front row of the 50-lap feature, outside defending race winner Tony Ol­son.
Olson led the first 38 laps before Lamberies used a higher line to get around and over the front spot. A couple laps later, Curtis VanDerWal also passed Olson for second.
On the final circuit, VanDerWal tried a slide job for the lead but got up into some loose dirt in turn two and Lamberies came back down the track and regained the lead and the win.
VanDerWal finished second, with Olson third. Gage Neal and Rick Wages completed the top five.
In IMCA Speedway Motors Weekly Racing action, Matt Ryan captured his second straight Pe­tersen Plumbing & Heating IMCA Late Model main. Ryan passed Rob Toland just after the mid­way point of the race. A late race caution bunched up the field behind Ryan but on the restart, Ryan pulled away and gained the win.
Brandon Durbin scored his second Eriksen Chevrolet IMCA Modified win of the season.
Scott Olson led several laps before Durbin got by. In the final laps, Doug Crampton and Mitch Morris each took shots at the lead but Durbin was able to hold on for the win.
SportMod Challenge feature results – 1. Lucas Lamberies; 2. Curtis VanDerWal; 3. Tony Ol­son; 4. Gage Neal; 5. Rick Wages; 6. Logan Anderson; 7. Brayton Carter; 8. Dustin Schram; 9. Keith Blum; 10. Matt Petrzelka; 11. Kyle Olson; 12. Kevin Goben; 13. Dalton Simonsen; 14. Ryan Schilling; 15. Cam Goben; 16. Jacob Arp; 17. Marcus Ostofi; 18. Carter VanDenBerg; 19. Ben Chapman; 20. Jake Morris; 21. Brandon Jewell; 22. Dan Chapman; 23. Doug Burkhead; 24. Tim Current.