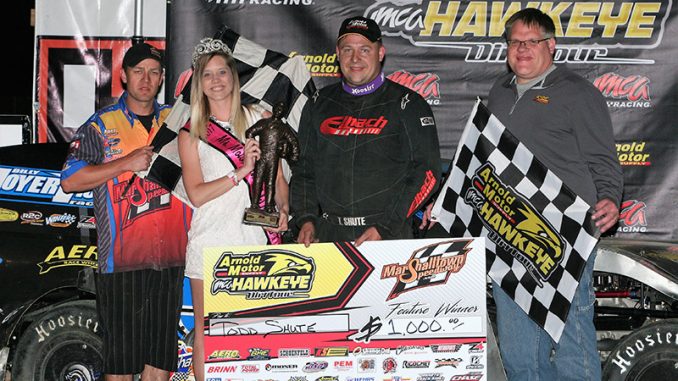 MARSHALLTOWN, Iowa (June 6) – The decision Todd Shute made right around midnight on Mon­day paid off with the Arnold Motor Supply Hawkeye Dirt Tour feature win Tuesday at Mar­shalltown Speedway.
Shute held off a very determined Tyler Droste for the $1,000 IMCA Modified victory, his first of the sea­son.
"Tyler is a very respectful racer. He was right there," Shute said following his career 78th win in the division. "It was a very fun race but also very tense."
Shute passed Jimmy Gustin for the front spot on the sixth of 30 laps and denied Droste over the final 10 circuits.
Droste ended in second, three car lengths off the pace. Kelly Shryock and 16th starting Darin Duffy closed late and were scored a very close third and fourth, respectively.
Gustin, winner of the opening night event at Benton County Speedway on Memorial Day, was fifth.
"We haven't been very stellar this year. I think we changed just about everything we could on the car and didn't actually decide until about midnight the night before that I'd come," said Shute. "This is a big race and one we gear up for, and I've got a very understanding boss in Gary Shearer at Karl Performance. He's a drag racer but he gets dirt racing."
The only cautions of the contest came on laps seven and nine. Droste challenged low on the se­cond restart and briefly ran three-wide with Shute and Gustin.
Top four spots were contended after midway, with Shryock challenging Gustin for third and then Droste making his a bid for the lead.
Droste tried sliders on laps 21 and 27. Shute moved to a lower line in the final laps to seal the win.
"I kind of ran all over in (turns) one and two and pretty much ran the top in three and four before getting up to a lapped car late," said Shute. "I moved to the middle the last three laps and got away from them a little."
Shute's one previous tour win had come in July of 2013 at Southern Iowa Speedway. He was al­ready on the ballot for the upcoming Fast Shafts All-Star Invitational.
The third of 10 Arnold Motor Supply Hawkeye Dirt Tour dates this season is next Tuesday, June 13 at West Liberty Raceway. Deery Brothers Summer Series IMCA Late Models are also on the card that evening.
Feature results – 1. Todd Shute, Des Moines; 2. Tyler Droste, Waterloo; 3. Kelly Shryock, Fer­tile; 4. Darin Duffy, Urbana; 5. Jimmy Gustin, Marshalltown; 6. Kyle Brown, Madrid; 7. Joel Rust, Grundy Center; 8. Justin Kay, Wheatland; 9. Brian Irvine, Oelwein; 10. Jacob Murray, Hart­ford; 11. Clay Money, Penokee, Kan.; 12. Jesse Hoeft, Forest City; 13. Tim Ward, Harcourt; 14. John Emerson, Waterloo; 15. Corey Dripps, Reinbeck; 16. Nate Hughes, Humboldt; 17. Troy Cordes, Dunkerton; 18. Shane DeMey, Denison; 19. Derek Reimer, Marshalltown; 20. Josh Gil­man, Earlham; 21. Jenae Gustin, Marshalltown; 22. Cayden Carter, Oskaloosa; 23. Eric Elliott, Boone; 24. Kurt Kile, Nichols.
1st heat (top three) – 1. Rust; 2. Ward; 3. Reimer; 4. Todd Inman, Altoona; 5. Cordes; 6. Jeff Ai­key, Cedar Falls; 7. Kay; 8. Richie Gustin, Gilman; 9. Josh Most, Red Oak; 10. Jacob Murray.
2nd heat – 1. Droste; 2. Hughes; 3. Jimmy Gustin; 4. Gilman; 5. Kyle Brown; 6. Jason Murray, Hartford; 7. Cory Sauerman, Johnston; 8. Trent Jackson, Marshalltown; 9. Austin Emry, Kellogg.
3rd heat – 1. Shute; 2. Elliott; 3. Money; 4. Emerson; 5. Irvine; 6. DeMey; 7. Cody Knecht, Whitte­more; 8. Colby Heishman, Brooklyn; 9. Tyler Gross, Ankeny.
4th heat – 1. Shryock; 2. Kile; 3. Carter; 4. Duffy; 5. Dripps; 6. Hoeft; 7. David Brown, Kellogg; 8. Jenae Gustin; 9. Jon Snyder, Ames.
1st "B" feature – 1. Irvine; 2. Emerson; 3. Kay; 4. Cordes; 5. Jacob Murray; 6. Inman; 7. Richie Gustin; 8. Knecht; 9. Gross; 10. DeMey; 11. Heishman; 12. Most; 13. Aikey.
2nd "B" feature – 1. Kyle Brown; 2. Duffy; 3. Hoeft; 4. Jenae Gustin; 5. Gilman; 6. Dripps; 7. Ja­son Murray; 8. David Brown; 9. Sauerman; 10. Emry; 11. Snyder; 12. Jackson.