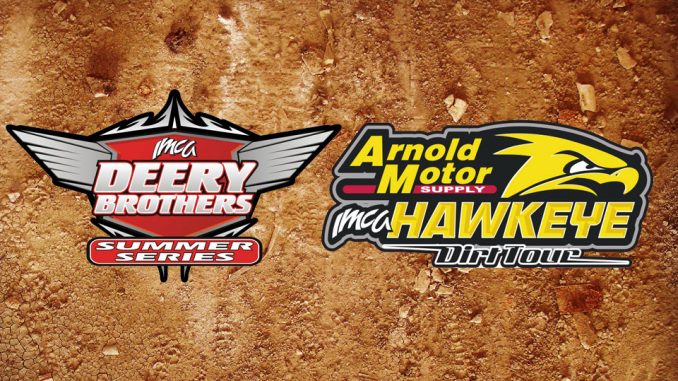 MARSHALLTOWN, Iowa – Two IMCA series, one with a new point leader and the other with the point leader racing in his hometown, are en route next to Marshalltown Speedway for a Tuesday, June 6 doubleheader.
Both the Deery Brothers Summer Series for IMCA Late Models and the Arnold Motor Supply Haw­keye Dirt Tour for IMCA Modifieds come to town for the midweek Miller Lite 50 special.
Late Models race for $2,000 to win and a minimum of $300 to start. Modifieds race for $1,000 to win and a minimum of $150 to start their Fast Shafts All-Star Invitational ballot qualifier.
Rookie Jesse Sobbing won the most recent Deery event, at Boone on Memorial Day, and that victory launched him to the top of point standings for the 31st annual series. The next four drivers in the standings – Jake Neal, Chad Holladay, Cayden Carter and Matt Ryan – are within 20 points of the leader with the first seven of 13 events completed.
Darrel DeFrance will extend his perfect attendance streak to 475 events when the Deery Series comes to his hometown track. DeFrance counts three runner-up finishes, and eight top-five show­ings in all, among his 25 career local Deery starts.
Jimmy Gustin of Marshalltown motored to his career 100th win in the IMCA Modified division when the Haw­keye Dirt Tour opened at Benton County Speedway, also on Memorial Day.
Gustin led Hunter Marriott, John Emerson, 2016 tour runner-up Kelly Shryock and Joel Rust to the checkers at Vinton.
Pit gates open at 4:30 p.m. Tuesday and the grandstand opens at 5 p.m. Hot laps are at 7 p.m. with racing to follow. Spectator admission is $15 for adults, $10 for seniors and free for children ages 10 and under. Pit passes are $30.
Also running are IMCA Sunoco Stock Cars. IMCA Speedway Motors Weekly Racing National, regional, state and special series points, but no track points will be awarded.
More information is available by calling 515 231-5444 and at the www.marshalltownspeedway.com website.
Both the Deery Series and Hawkeye Dirt Tour are at West Liberty Raceway on Tuesday, June 13 for another IMCA twinbill.
Deery Brothers Summer Series top 20 point standings – 1. Jesse Sobbing, Malvern, 249; 2. Jake Neal, Omaha, Neb., 245; 3. Chad Holladay, Muscatine, 234; 4. Cayden Carter, Oskaloosa, 231; 5. Matt Ryan, Davenport, 229; 6. Luke Goedert, Guttenberg, 227; 7. Darrel DeFrance, Mar­shalltown, and Jeremiah Hurst, Dubuque, both 223; 9. Curt Martin, Independence, 220; 10. Richie Gustin, Gilman, 181; 11. Jeff Tharp, Sherrill, 177; 12. Joel Callahan, Dubuque, 165; 13. Paul Con­rad, Colo, 157; 14. Justin Kay, Wheatland, 153; 15. Jeff Aikey, Cedar Falls, 129; 16. Curt Schroeder, Newton, 124; 17. Tyler Bruening, Decorah, 110; 18. Travis Denning, Sterling, Ill., 99; 19. Luke Merfeld, Dubuque, 97; 20. Andy Eckrich, Oxford, 96.
Arnold Motor Supply Hawkeye Dirt Tour top 20 point standings – 1. Jimmy Gustin, Mar­shalltown, 40; 2. Hunter Marriott, Brookfield, Mo., 39; 3. John Emerson, Waterloo, 38; 4. Kelly Shryock, Fertile, 37; 5. Joel Rust, Grundy Center, 36; 6. Clay Money, Penokee, Kan., 35; 7. Kyle Brown, Madrid, 34; 8. Brandon Maitland, Waterloo, 33; 9. Tyler Droste, Waterloo, 32; 10. Troy Cordes, Dunkerton, 31; 11. Scott Hogan, Vinton, 30; 12. Ryan Maitland, Waterloo, 29; 13. Jacob Murray, Hartford, 28; 14. Jesse Hoeft, Forest City, 27; 15. Todd Shute, Des Moines, 26; 16. Co­rey Dripps, Reinbeck, 25; 17. Shane DeMey, Denison, 24; 18. Mitch Manternach, Earlville, 23; 19. Cody Knecht, Whittemore, 22; 20. Racer Hulin, Laurel, 21.