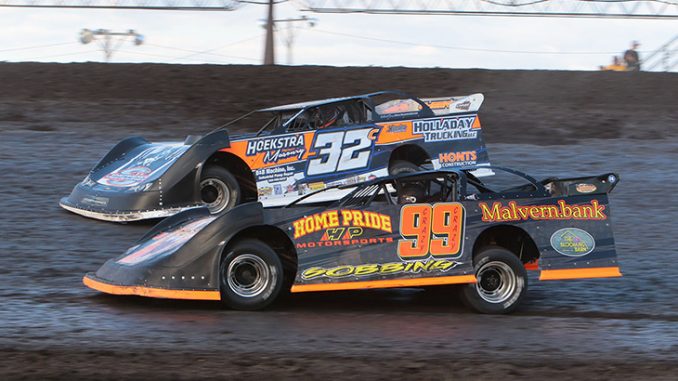 BOONE, Iowa (May 29) – Jesse Sobbing couldn't have asked for a much better weekend than this.
After hearing his name called as winner of the $250 Sunoco Race Fuels feature qualifier drawing, Sobbing went out and won the 40-lap Deery Brothers Summer Series main event at Boone Speedway's Memorial Day special.
The IMCA Late Model tour victory paid $2,000 and was the career first for Sobbing, who has already done his share of winning and then some in the Karl Chevrolet Northern SportMod and IMCA Modified divisions.
"At the end of last year, we decided we were going to race an IMCA Late Model and one of our goals was to try and win a few of these races. Now we've got one," he said. "We've been right with these guys and it feels good to be able to get a win."
Sobbing started third and admittedly got a little anxious as he worked his way to the front of the field.
"It seemed like once we got into the lead, around midway, there was a lot of lapped traffic pretty quickly," Sobbing said. "We tried to keep it as clean and clear as we could."
Chad Holladay, 12th starting Todd Cooney, 11th starting Darrel DeFrance and Justin Kay rounded out the top five.
Jeff Aikey, Holladay and Cooney were $50 Malvern Bank heat race winners. Sobbing is the 99th different driver in series history to win a Deery feature.
The 31st annual tour is at Marshalltown Speedway on June 6 for a doubleheader with the Arnold Motor Supply Hawkeye Dirt Tour for IMCA Modifieds.
Feature results – 1. Jesse Sobbing, Malvern; 2. Chad Holladay, Muscatine; 3. Todd Cooney, Des Moines; 4. Darrel DeFrance, Marshalltown; 5. Justin Kay, Wheatland; 6. Curt Martin, Independence; 7. Jake Neal, Omaha, Neb.; 8. Richie Gustin, Gilman; 9. Jeremiah Hurst, Dubuque; 10. Cayden Carter, Oskaloosa; 11. Curtis Glover, Runnells; 12. Joe Zrostlik, Long Grove; 13. Matt Ryan, Davenport; 14. Luke Goedert, Guttenberg; 15. Greg Kastli, Waterloo; 16. Joel Callahan, Dubuque; 17. Paul Conrad, Colo; 18. Curt Schroeder, Newton; 19. Allan Hopp, Harlan; 20. Kyle Krampe, Baxter; 21. Justin Mitchell, Cedar Rapids; 22. Kirby Schultz, Albia; 23. Andy Eckrich, Oxford; 24. Jeff Aikey, Cedar Falls; 25. Charlie McKenna, Clear Lake.
1st heat – 1. Aikey; 2. Conrad; 3. Sobbing; 4. DeFrance; 5. Gustin; 6. Callahan; 7. Zrostlik; 8. Eckrich; 9. Hopp.
2nd heat – 1. Holladay; 2. Carter; 3. Glover; 4. Kay; 5. McKenna; 6. Schroeder; 7. Schultz; 8. Mitchell.
3rd heat – 1. Cooney; 2. Goedert; 3. Martin; 4. Neal; 5. Hurst; 6. Ryan; 7. Kastli; 8. Krampe.