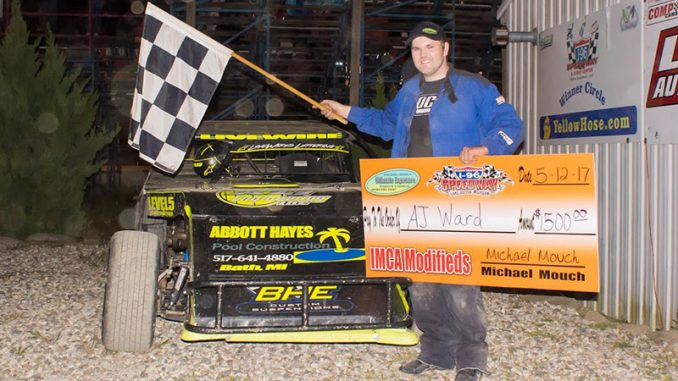 LAKE ODESSA, Mich. (May 12) – A fast trip to Iowa earlier in the week helped put A.J. Ward in victory lane Friday back in his home state of Michigan.
After a wreck left his car totaled, the defending Dirt Works Eastern Region champion went on line to find a new IMCA Modified ride. Adam Larson's 2015 BMS caught his eye, the deal went down Tuesday and Ward picked the up the car on Wednesday.
After a long day and a half in the shop, Ward was off to I-96 Speedway, where he got the best of Gary VanderMark in a back-and-forth battle for the $1,500 checkers Friday night.
"We had half an hour to scale the car. We loaded up at 7 p.m. and missed hot laps, but we won the heat by a straightaway. That was our hot laps," he said. "We made a couple adjustments, then drove the heck out of the car and ended up in victory lane."
Ward started the 20-lapper from fourth and was in the lead by lap six.
VanderMark wouldn't let Ward get away after a late caution. They'd swap the front spot numerous times over the final five circuits before Ward was able to get a three car-length advantage at the end.
Mitchell Hunt, Shannon Fisk and Johnny DeYoung completed the top five.
The victory was Ward's career 66th in the division and second this season. Five of his 24 wins last season came at Lake Odessa.
Feature results – 1. A.J. Ward; 2. Gary VanderMark; 3. Mitchell Hunt; 4. Shannon Fisk; 5. Johnny DeYoung; 6. Brenton DeYoung; 7. Cody Johnson; 8. Calvin Stemler; 9. Chad May; 10. Nick Stormzand; 11. Austin Wonch; 12. Chad Maurer; 13. Mark Davis; 14. Myron DeYoung; 15. Lucas Krick; 16. Timmy Near; 17. Mickey Carman Jr.; 18. Aaron Atkinson; 19. Troy Ziegler.