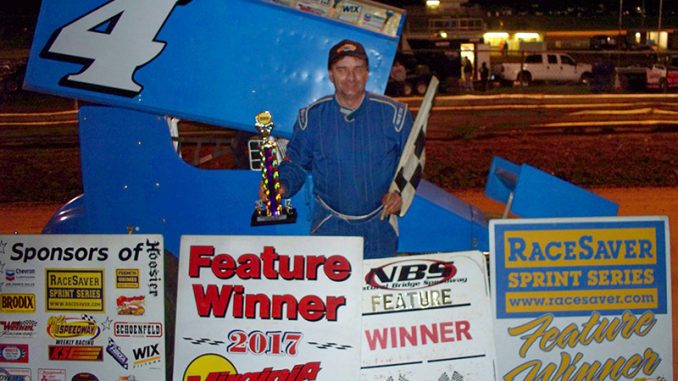 By Jim Haines
NATURAL BRIDGE, Va. (May 6) – Anthony Linkenhoker was a hero to his hometown fans on a cool and windy Saturday evening at Natural Bridge Speedway.
Linkenhoker took the late lead and went on to win the Virginia Sprint Series feature. He's the fourth different winner in as many IMCA RaceSaver Sprint Car series features so far this season.
Chris Ware and Bill Rice paced the field to green with Ware out first and using the low line to stay out front. Tony Harris was right with him quickly as Linkenhoker and Jerald Harris were all fairly close.
Ware led to lap 10 when Tony Harris was able to get under him. Linkenhoker stayed right behind the next five times around the track and was finally able to complete the pass for the lead.
Feature results – 1. Anthony Linkenhoker; 2. Jerald Harris; 3. Tony Harris; 4. Jeff Taylor; 5. Chris Ware; 6. Bill Rice; 7. Harles Streaker; 8. Brian Lawson.