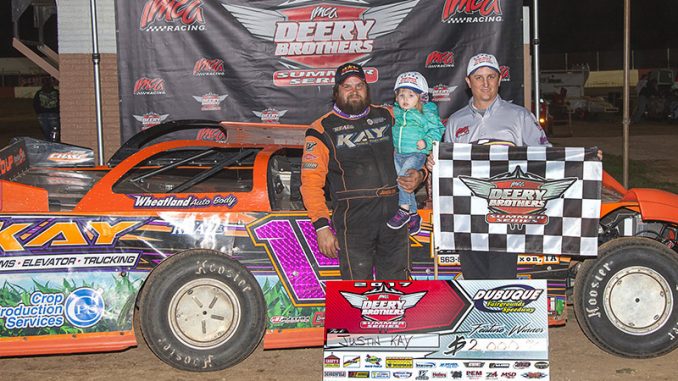 DUBUQUE, Iowa (April 23) – After the fifth lead change of the night, a driver who knows a thing or two about getting around Dubuque Speedway was the winner of Sunday night's Deery Brothers Summer Series 50-lap feature.
And a driver making his first-ever visit to Dubuque was a very close runner-up in the final installment of the weekend's Highway 20 Triple Crown.
Justin Kay led the last 11 circuits in winning the IMCA Late Model tour main event, picking up his second $2,000 check in three nights for his career 21st Deery victory.
Nebraskan Jake Neal led nine laps before Kay got by but never gave up the chase, finishing just a car length back.
Matt Ryan, Chad Holladay and Cayden Carter, the top driver in Triple Crown point standings, completed the top five.
Joe Zrostlik led the first two laps from his outside front row start. Carter started seventh and led laps 3-20 and 22-29, with the eighth staring Kay scored first across the line on lap 21.
Back-to-back cautions came out on laps 28 and 29. Neal rocketed past Kay and Carter and into the lead following the second restart.
Kay rallied to get front spot and brought Neal along into lapped traffic. Neal stayed close but was never able to make up the distance.
Kay, winner of the Friday Deery feature at Farley Speedway, had won one previous series event at Dubuque, where he's also a two-time track champion. Neal becomes the fourth different point leader through the series' first five events.
Carter earned a $500 share of $1,500 in Highway 20 Triple Crown bonus money.
Neal pocketed the $250 Sunoco Race Fuels feature qualifier prize. Malvern Bank paid $50 each to heat race winners Jesse Sobbing, Zrostlik and Kay.
Next up for the Deery Series is a $2,000 to win event on Sunday, May 14 at Quad City Speedway in East Moline, Ill.
Feature results – 1. Justin Kay, Wheatland; 2. Jake Neal, Omaha, Neb.; 3. Matt Ryan, Davenport; 4. Chad Holladay, Muscatine; 5. Cayden Carter, Oskaloosa; 6. Jeremiah Hurst, Dubuque; 7. Luke Merfeld, Dubuque; 8. Joe Zrostlik, Long Grove; 9. Jesse Sobbing, Malvern; 10. Richie Gustin, Gilman; 11. Luke Goedert, Guttenberg; 12. Curt Martin, Independence; 13. Joel Callahan, Dubuque; 14. Jeff Tharp, Sherrill; 15. Paul Conrad, Colo; 16. Gary Webb, Blue Grass; 17. Curt Schroeder, Newton; 18. Kyle Krampe, Baxter; 19. Darrel DeFrance, Marshalltown; 20. Lyle Klein, Sherrill; 21. Travis Dennis, Sterling, Ill.
1st heat – 1. Sobbing; 2. Goedert; 3. Webb; 4. Gustin; 5. Tharp; 6. Merfeld; 7. Klein.
2nd heat – 1. Zrostlik; 2. Carter; 3. Neal; 4. Holladay; 5. Conrad; 6. Krampe; 7. Schroeder.
3rd heat – 1. Kay; 2. Hurst; 3. Callahan; 4. Martin; 5. Ryan; 6. DeFrance; 7. Denning.