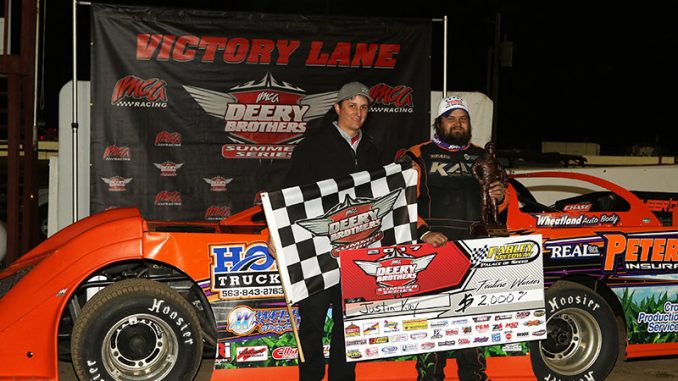 FARLEY, Iowa (April 21) – The Deery Brothers Summer Series for IMCA Late Models headlined Friday's season opener at Farley Speedway under the new direction of Farley Speedway Promotions. Fans were greeted by a field of 36 touring Late Models at the facility, which has already undergone numerous improvements this spring with many more to come throughout the season.
While the facility is undergoing a facelift, it was a familiar face lifting the trophy in victory lane as Justin Kay led all 35 laps to earn his career 20th series victory.
Kay withstood pressure from Jesse Sobbing following a pair of cautions in the first half of the event and then held Cayden Carter at bay late to secure the $2,000 payday.
Kay, who started outside of row one, burst into the lead on the start and built a half straightway lead before the first stoppage on lap eight. Sobbing gave chase on the restart and briefly worked to the low side of Kay as they navigated through traffic on lap 21.
While Kay held the lead, the yellow flag waved again with 13 laps to go. He maintained the point through two late cautions to take the win, becoming the third different winner in as many series races this season.
"I felt the line was good for around two laps after the cautions," Kay said from victory lane. "I could go where I wanted to. Being out front helps. It allows you to move around."
Carter ran second ahead of hard charger Richie Gustin, who advanced 19 positions to finish third. Matt Ryan ran fourth after starting 20th and 17th starting Luke Goedert ran fifth.
By virtue of a seventh place finish, Tyler Bruening held onto an eight point lead in the series standings over Ryan.
Carter was the $250 Sunoco Race Fuels feature qualifier drawing winner.
Carter, Ryan Dolan, Denny Eckrich and Curt Martin were $50 Malvern Bank heat race winners.
Next up is the series' second event of a three-race weekend Saturday, April 22 at Independence Motor Speedway before completing the Highway 20 Triple Crown Sunday at Dubuque Speedway. Both of those events also pay $2,000-to-win.
Feature results – 1. Justin Kay, Wheatland; 2. Cayden Carter, Oskaloosa; 3. Richie Gustin, Gilman; 4. Matt Ryan, Davenport; 5. Luke Goedert, Guttenburg; 6. Chad Holladay, Muscatine; 7. Tyler Bruening, Decorah; 8. Jeff Tharp, Sherrill; 9. Jake Neal, Omaha, Neb.; 10. Curt Martin, Independence; 11. Jesse Sobbing, Malvern; 12. Nick Marolf, Wilton; 13. Ryan Dolan, Lisbon; 14. Darrel DeFrance, Marshalltown; 15. Paul Conrad, Colo; 16. John Emerson, Waterloo; 17. Jeff Aikey, Cedar Falls; 18. Spencer Diercks, Davenport; 19. Andy Eckrich, Oxford; 20. Rick Wendling, Hazleton; 21. Jon Merfeld, Dubuque; 22. Travis Denning, Sterling, Ill.; 23. Denny Eckrich, Tiffin; 24. Jeremiah Hurst, Dubuque.
1st heat (top three) – 1. Carter; 2. A. Eckrich; 3. DeFrance; 4. Goedert; 5. Bruening; 6. Troy Hovey, Decorah; 7. Conrad; 8. Bryce Carey, Ionia; 9. Kyle Krampe, Baxter.
2nd heat – 1. Dolan; 2. Diercks; 3. Kay; 4. Ryan; 5. Jay Johnson, West Burlington; 6. Curt Schroeder, Newton; 7. Denning; 8. Luke Merfeld, Dubuque; 9. Joel Callahan, Dubuque.
3rd heat – 1. D. Eckrich; 2. Sobbing; 3. Marolf; 4. J. Merfeld; 5. Emerson; 6. Lyle Klein, Sherrill; 7. Rory Metcalf, Iowa City; 8. Kip Siems, Cedar Falls; 9. Scott Fitzpatrick, Cedar Falls.
4th heat – 1. Martin; 2. Hurst; 3. Wendling; 4. Aikey; 5. Tharp; 6. Neal; 7. David Webster, Monroe, Wis.; 8. Gustin; 9. Holladay.
1st "B" feature (top five) – 1. Bruening; 2. Emerson; 3. Goedert; 4. J. Merfeld; 5. Conrad; 6. Hovey; 7. Carey; 8. Siems; 9. Krampe; 10. Klein; 11. Metcalf; 12. Fitzpatrick.
2nd "B" feature – 1. Aikey; 2. Holladay; 3. Denning; 4. Ryan; 5. Gustin; 6. Tharp; 7. Johnson; 8. Neal; 9. Schroeder; 10. Callahan; 11. Webster; 12. L. Merfeld.