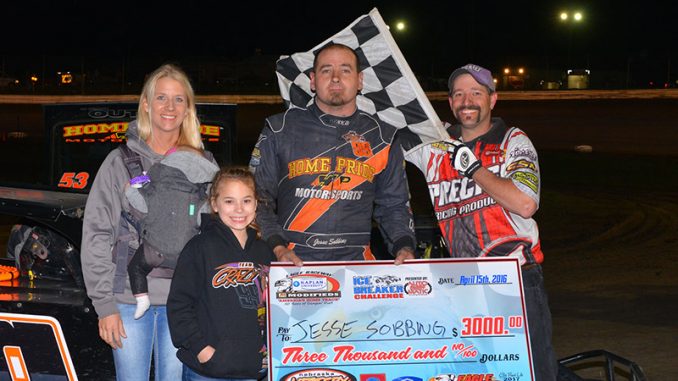 By Greg Soukup
EAGLE, Neb. (April 15) – Bigger shares of the purse were at stake after Friday's Ice Breaker Challenge program was lost to rain, so Jesse Sobbing and Adam Armstrong both took homer bigger checks on Saturday.
Sobbing scored the $3,000 IMCA Modified victory, earning the lion's share of the biggest purse paid in that division at Eagle Raceway, while Armstrong collected the $750 Karl Chevrolet Northern SportMod checkers.
Tyler Drueke took home $1,000 for his IMCA RaceSaver Sprint Car victory and Dan Nelson notched the $500 IMCA Sunoco Stock Car win. More than 140 teams made the tow to Eagle for the season lidlifter.
Sobbing, who started on the front row, put his ride out front on the opening, followed by Chevy Hadan, Clint Homan and Shane Hiatt.
Hiatt passed Homan for third on lap four and Dylan Smith got past Homan two laps later. The final position change in the top four came on lap 26 when Smith passed Hiatt for third. Sobbing raced his way onto the Fast Shafts All-Star Invitational ballot, finishing in front of Hadan, Smith and Hiatt.
In an event doubling as the Sprint Series of Nebraska opener, Drueke took advantage of his front row outside starting position and led the distance.
Toby Chapman and Jason Martin passed Adam Gullion to move to second and third following a lap five restart. Despite a furious battle among the top four. their spots remained unchanged to the checkers.
"We led the whole thing, but it wasn't really easy," Drueke said. "We definitely had to earn this one, it wasn't just given to us."
Once an official lap was in the books, Armstrong's led the Northern SportMod field with Lance Borgman, Arie Schouten and Derek Hall in pursuit. Hall and Colby Langenberg both passed Schouten on lap two with Langenberg getting past Hall on lap 12.
Borgman suffered mechanical difficulties on lap 22 and headed to the infield, making the eventual final running order Armstrong, Trent Roth, Shawn Harker and Langenberg
Nelson was in and out of second in the Stock Car feature before gaining the spot back on lap six. He took the lead on the 16th circuit and won ahead of Shane Stutzman, Doug Adamy and Eric Rempel.
Feature Results
Modifieds – 1.  Jesse Sobbing; 2.  Chevy Hadan; 3. Dylan Smith; 4. Shane Hiatt; 5. Jordan Grabouski; 6. Clint Homan; 7. Jeremy Payne; 8. Josh Blumer; 9. Anthony Roth; 10. Trevor Baker; 11. Johnny Saathoff; 12. Chad Andersen; 13. Aaron Pella; 14. Rik Gropp; 15. Brandon Spanjer; 16. Cale Carder; 17. Bob Ruisinger; 18. Bob Zoubek; 19. Colton Osborn; 20. Jay Noteboom.
Sprint Cars – 1. Tyler Drueke; 2. Toby Chapman; 3. Jason Martin; 4. Adam Gullion; 5. Jason Danley; 6. Joey Danley; 7. Jack Dover; 8. Shayle Bade; 9. Matt Richards; 10. Stu Snyder; 11. Ryan King; 12. Gene Ackland; 13. Terry Richards; 14. Trevor Grossenbacher; 15. Clint Benson; 16. Dan Satriano; 17. Zach Blurton; 18.Kaleb Johnson; 19. Nathan Weiler; 20. Ron Love.
Northern SportMods – 1. Adam Armstrong; 2. Trent Roth; 3. Shawn Harker; 4. Colby Langenberg; 5. Derek Hall; 6. Dillon Schultz; 7. Josh Pfeifer; 8. Benji Legg; 9. Gunnar Pike; 10. Joe Schidler; 11. Arie Schouten; 12. Logan Thompsen; 13. Mary Lenz; 14. Ken Eckhoff; 15. Lance Borgman; 16. Jesse Skalicky; 17. Joe Feyen; 18. James Roebuck; 19. Gary Saathoff; 20. Adam Vrbka.
Stock Cars – 1. Dan Nelson; 2. Shane Stutzman; 3. Doug Adamy; 4. Eric Rempel; 5. Ron Pettitt; 6. John Meyer; 7. Jason Kreft; 8. Bob Chalupa; 9. Chad Bruns; 10. Hans Houfek; 11. Marty Steinbach; 12. Rudy Brunkhorst; 13. Jed Williams; 14. Tanner Pettitt; 15. Allen Zimmerman; 16. Shawn Primrose; 17. Allyn Shiveley; 18. Mikey Dancer; 19. Tyler Easterday; 20. Tyler Jackson; 21. Jake McCloud; 22. Eric Bartels; 23. Preston Janzing; 24. Tyler Phelps.