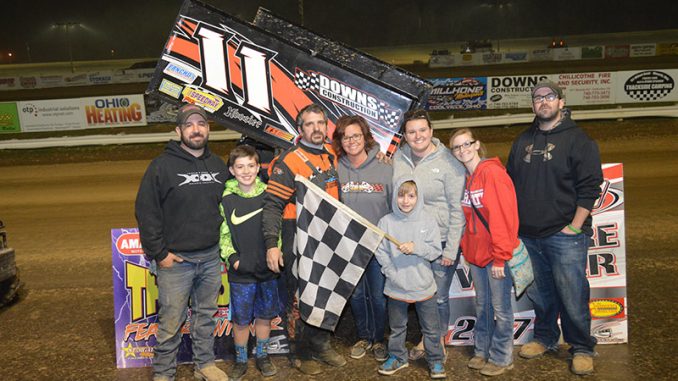 CHILLICOTHE, Ohio – IMCA will crown its first-ever RaceSaver Sprint Car track champion as well as a series champion in Ohio this season.
Atomic Speedway hosted the first of nine events on April 9; points races there April 22, May 20, June 24, July 22 and Aug. 5, 25 and 26, and Sept. 23 also figure toward determining that first champion.
The June 24 event is during Ohio Sprint Speedweek and will be broadcast on the internet. The Aug. 26 Open Wheel Championship feature pays $600 to win.
Eight Ohio Thunder Sprint Series dates are now on the schedule – at least one more will be added, at a location to be announced – at Atomic, Moler Raceway Park, Southern Ohio Speedway and Hilltop Speedway.
Series dates at Moler are April 28 and Aug. 4. Atomic is site of the April 29 show while Hilltop welcomes the series on July 15.
Southern is the destination for May 19, June 30, July 21 and Sept. 22 events.
The one TBA date now is June 9.
"What's great about this schedule is that it gives our drivers the chance to race for track and series championships, as well as state and national points," said Series Director Andy Hill. "We were getting five drivers when we started this series and had 13 for opening night, even though it was rescheduled from Saturday to Sunday."
"We could have around 18 weekly cars," he continued. "We're getting a lot of interest from guys looking to move up from mini sprints and already have five of them racing with us."
IMCA RaceSaver Sprint features in Ohio pay $200-$500 to win, depending on car count, and a minimum of $100 to start.
Two-time defending series and state champion Mike Downs was the winner of the season opener at Atomic, which is promoted by Brad McCown.
Atomic has been the home track of the Ohio Thunder Sprint Series during its IMCA RaceSaver tenure.