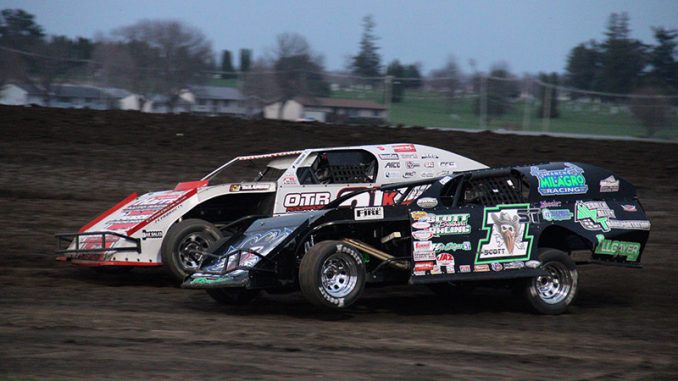 VINTON, Iowa (April 9) – No way, figured Johnny Scott, did he have a realistic shot at winning Sunday's IMCA Modified Frostbuster feature after drawing the 12th starting spot.
Yes way.
Scott slipped inside Kyle Brown for the lead on the 19th of 25 laps, then held Brown and Jason Wolla in check following a restart with four to go to win the headline event at Benton County Speed­way.
"I didn't think there was any way, especially with so many good cars here, but we made the right move at the right time," said Scott, also the $1,000 feature winner ahead of Brown at the opening night Frostbuster Friday at Marshalltown. "The bottom was dominant and I had to take the chance when Kyle bobbled a little."
The two made contact going into the first turn. Scott drove by for the eventual win, chased to the checkers by Brown, Wolla, Scott Hogan and 20th starting Joel Rust.
"There was a little contact but it was not intentional. I don't race like that. It was a racing deal," Scott said before loading up following his first-ever visit to Vinton. "There were definitely a lot of good guys here tonight. It's hard to win races when everyone is so competitive."
Patrick Flannagan had started outside the front row and led the first six times around the track. He was quick to pull away from the field but saw those advantages erased by a pair of early cau­tions.
Brown was next in front but had Scott on his back bumper by lap eight.
Brown had finished second behind Jay Schmidt earlier in the IMCA Sunoco Stock Car feature.
Damon Murty was leading and looking to run away from the rest of the field before getting side­ways and sparking a seven car pileup. Schmidt inherited the lead for the restart and won ahead of Brown and Larry Karcz.
Tyler Soppe led start to finish in a Karl Chevrolet Northern SportMod feature stopped just once by cau­tion, on the opening lap. Johnathon Logue Jr. was second and Sam Wieben scored third.
And Eric Stanton backed his Saturday Frostbuster win at Boone with the IMCA Sunoco Hobby Stock checkers, passing August Bach for the led with three laps to go. Bach exited with a flat tire and Matt Pohlman and Leah Wroten were next across the stripe.
Feature Results
Modifieds – 1. Johnny Scott, Cameron, Mo.; 2. Kyle Brown, Madrid; 3. Jason Wolla, Ray, N.D.; 4. Scott Hogan, Vinton; 5. Joel Rust, Grundy Center; 6. Jeff Waterman, Quincy, Ill.; 7. Casey Sky­berg, Rapid City, S.D.; 8. Troy Cordes, Dunkerton; 9. Ryan Maitland, Waterloo; 10. Colby Heish­man, Brooklyn; 11. Todd Shute, Des Moines; 12. Jeff Aikey, Cedar Falls; 13. Justin Medler, Minot, N.D.; 14. Patrick Flannagan, Cedar Rapids; 15. Hunter Marriott, Brookfield, Mo.; 16. Vern Jackson, Waterloo; 17. Tim Ward, Harcourt; 18. Joe Docekal, Dysart; 19. Brandon Mait­land, Waterloo; 20. Joe McBirnie, Boone; 21. Corey Dripps, Waterloo; 22. Jeff Bodendorfer, Water­ford, Wis.; 23. Mitch Manternach, Earlville; 24. David Brown, Kellogg; 25. J.J. Scott, Iowa City.
Stock Cars – 1. Jay Schmidt, Tama; 2. Kyle Brown, Madrid; 3. Larry Karcz, Pulaski, Wis.; 4. John Oliver Jr., Danville; 5. Devin Snellenberger, Pulaski, Wis.; 6. Damon Murty, Chelsea; 7. Shane Ebaugh, Evansdale; 8. Scooter Dulin, Cedar Rapids; 9. Angel Munoz, Lamar, Colo.; 10. Jeremy Christians, Horicon, Wis.; 11. Reese Norton, Monticello; 12. Justin Stander, Shellsburg; 13. Tyler Muirhead, Mabank, Texas; 14. Norman Chesmore, Rowley; 15. Brett Koehler, Two Riv­ers, Wis.; 16. Brendon Labatte, Weyburn, Sask.; 17. John Adams, Denmark, Wis.; 18. Chad Siems, Shellsburg.
Northern SportMods – 1. Tyler Soppe, Sherrill; 2. Johnathon Logue Jr., Boone; 3. Sam Wieben, Dysart; 4. Kyle Olson, Cedar Rapids; 5. Jake McBirnie, Boone; 6. Wyatt Block, Tigerton, Wis.; 7. Tony Olson, Cedar Rapids; 8. Danny Dvorak, Vinton; 9. Bruce Belland, Eagle River, Wis.; 10. Tim Warner, Fon du Lac, Wis.; 11. Jami Ritter, Keystone; 12. Keith Gogel, Solon; 13. Tom Stark, Egg Harbor, Wis.; 14. Lee Rouse, Atkins; 15. Jarrett Franzen, Maquoketa; 16. Ryan King, Montour; 17. Ben Chapman, Clarence.
Hobby Stocks – 1. Eric Stanton, Carlisle; 2. Matt Pohlman, Keystone; 3. Leah Wroten, Independ­ence; 4. Justin Wacha, Vinton; 5. Nathan Ballard, Marengo; 6. Tyson Overton, Carlisle; 7. Clint Nelson, Baxter; 8. Jason Bruns, Newton; 9. Blair Hanson, Estevan, Sask.; 10. Tonia Ste­vens, Guernsey; 11. August Bach, Reinbeck; 12. Daniel Wauters, Iowa City; 13. Korbin Nourse, Stuart; 14. Kyle Dulin, Keystone; 15. Jeremy Floyd, Cedar Rapids; 16. Dale Kite, Keystone.