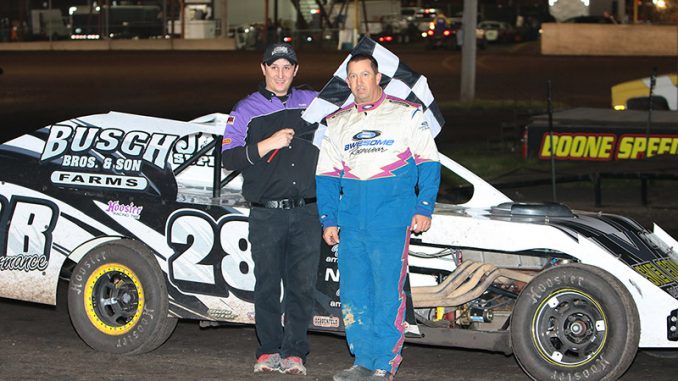 BOONE, Iowa (April 8) – After finishing repairs to the roof of his shop, Russ Dickerson put the finishing touches on his IMCA Modified.
On Saturday, he finished first in the Frostbuster main event at his hometown Boone Speedway and started to turn his luck around with a $1,000 payday.
"This was a pretty good way to start out the season and a good way to start the month," said Dicker­son, who'd lost the roof of his shop to a windstorm some four weeks ago. "We started eighth and everything worked out in our favor. We had some good luck for a change."
The new Fast Shafts All-Star Invitational ballot qualifier got the lead just after halfway in the 25-lapper. He ran the higher line until catching up with the back of the field, then used different lines to work his way through traffic.
Jason Wolla, who'd won ahead of Dickerson in their heat, was second and Clint Luellen was third. Mike Van Genderen and Hunter Marriott completed the top five.
"I saw Wolla several times. He wasn't very far back," Dickerson noted. "And Clint wasn't far back in third."
Angel Munoz made the trip from Colorado and won the IMCA Sunoco Stock Car feature. He'd drawn the inside row four start after winning the final heat and passed Jay Schmidt en route to his ca­reer first feature victory in Iowa.
"I followed Jay for a good handful of laps. He bobbled and I got the lead," Munoz said. "Getting the win here is the highlight of my whole 15-year career. There's always some pretty stout competi­tion at the Frostbuster."
Michael Murphy ended in second and Schmidt was third.
Jake McBirnie, Austin Luellen and Johnathon Logue Jr. ran 1-2-3 in the Karl Chevrolet Northern SportMod feature. Eric Stanton was the IMCA Sunoco Hobby Stock winner, ahead of Solomon Bennett and Jack Phillips.
Drivers from nine states and Canada vied in the second Frostbuster of the weekend. The finale, Sunday at Benton County Speedway in Vinton, will also be broadcast by IMCA.TV.
Feature Results
Modifieds – 1. Russ Dickerson; 2. Jason Wolla; 3. Clint Luellen; 4. Mike Van Genderen; 5. Hunter Marriott; 6. Eric Elliott; 7. Todd Shute; 8. Adam Larson; 9. Bryce Garnhart; 10. Johnny Scott; 11. Kyle Brown; 12. Joel Rust; 13. Austin Wolf; 14. Randy Havlik; 15. David Brown; 16. Jesse Hoeft; 17. Kent Croskey; 18. Al Wolfgram; 19. Gatlin Leytham; 20. Joel Crowbridge; 21. Brandon Leeman; 22. Richie Gustin; 23. Todd Inman; 24. Don Geist. 
Stock Cars – 1. Angel Munoz; 2. Michael Murphy; 3. Jay Schmidt; 4. Marcus Fagan; 5. Trent Murphy; 6. Larry Karcz Jr.; 7. Randy Brands; 8. Jake Nelson; 9. Robert Stofer; 10. Kevin Opheim; 11. Brandon Pruitt; 12. Tyler Pickett; 13. Devin Snellenberger; 14. Josh Daniels; 15. Cody Gus­toff; 16. Justin Nehring; 17. Jamie Suchocki; 18. Jared Hansen; 19. Rodney Richards; 20. Tyler Muirhead; 21. Terry Cornelison; 22. Wayne Gifford; 23. David Bouche; 24. Bret Koehler.
SportMods – 1. Jake McBirnie; 2. Austin Luellen; 3. Johnathon Logue Jr.; 4. Sam Wieben; 5. Wyatt Block; 6. John Watson; 7. Ryan King; 8. Brandon Schmidt; 9. Cory Pestotnik; 10. Ethan Braaksma; 11. Chad Ryerson; 12. Curtis Veber; 13. Dusty Masolini; 14. Autumn Anderson; 15. Geoff Jeche; 16. Thomas Egenberger; 17. Bruce Belland; 18. Jeremy Ladue; 19. Anthony Onstot; 20. Brett Meyer; 21. George Nordman; 22. Hunter Longnecker; 23. Robert Moore; 24. Brian Efkamp.
Hobby Stocks – 1. Eric Stanton; 2. Solomon Bennett; 3. Jack Phillips; 4. Bryce Sommerfeld; 5. Justin Wacha; 6. Kyle Sidles; 7. Tyson Overton; 8. Aaron Rudolph; 9. Dustin Graham; 10. Ryan Wells; 11. Korbin Nourse; 12. Dustin Lynch; 13. Zac Smith; 14. Davin McQuisten; 15. Chris Cox; 16. Jay Sidles; 17. Brian Derry; 18. Blair Halvorson; 19. Shane Butler; 20. Shaun Wirtz; 21. Dylan Nelson; 22. Todd Bass; 23. Matt McDonald; 24. Clint Nelson.