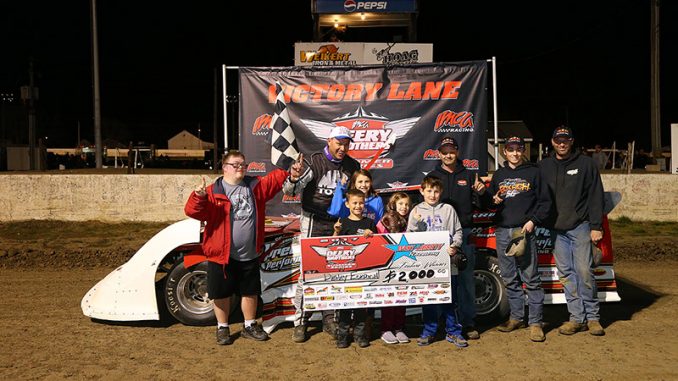 WEST LIBERTY, Iowa (April 8) – After winning Saturday's Deery Brothers Summer Series feature at West Liberty Raceway, Denny Eckrich took time to remember friend Mike Humphrey, killed in a car accident earlier this week in Louisiana.
"He helped me get into a Black Diamond (Chassis). He helped a lot of racers," Eckrich said. "Mike was a good guy and he died too soon. There are a lot of heavy hearts tonight."
Eckrich led the last seven of 40 laps after taking the outside line around Jeremiah Hurst and Jesse Sobbing following a late restart. The $2,000 checkers were his IMCA Late Model tour career sixth; he also won the first series race held at West Liberty last year.
Outside front row starter Spencer Diercks led the first 15 laps before slowing and watching Hurst motor by. Eckrich was part of a mid-race tangle with Jake Neal during their battle for second that left the left side of his car more than a little banged up but he soldiered on.
Hurst and Sobbing got together following that late restart, opening the topside door for Eckrich, and positions throughout the top 10 changed as the race wound down.
Hurst settled for second while hard charger Joel Callahan made his way from 20th starting to third.
Defending series champion Tyler Bruening and Sobbing completed the top five. Bruening was also the $250 Sunoco Race Fuels feature qualifier drawing winner.
Next up for the 31st annual Deery Series are $2,000 to win events Friday, April 14 at Farley Speedway and Saturday, April 15 at Independence Motor Speedway.
Feature results – 1. Denny Eckrich, Tiffin; 2. Jeremiah Hurst, Dubuque; 3. Joel Callahan, Dubuque; 4. Tyler Bruening, Decorah; 5. Jesse Sobbing, Malvern; 6. Jeff Tharp, Sherrill; 7. Cayden Carter, Oskaloosa; 8. Justin Kay, Wheatland; 9. Jake Neal, Omaha, Neb.; 10. Scott Fitzpatrick, Wheatland; 11. Luke Goedert, Guttenberg; 12. Curt Martin, Independence; 13. Jeff Aikey, Cedar Falls; 14. Chad Holladay, Muscatine; 15. John Emerson, Waterloo; 16. Matt Ryan, Davenport; 17. Darrel DeFrance, Marshalltown; 18. Andy Eckrich, Oxford; 19. Lyle Klein, Sherrill; 20. Kyle Hinrichs, Swisher; 21. Spencer Diercks, Davenport; 22. Jay Johnson, West Burlington; 23. Kevin Kile, West Liberty; 24. Nick Marolf, Wilton.
1st heat (top three) – 1. Hurst; 2. Carter; 3. Sobbing; 4. Martin; 5. Ryan Dolan, Lisbon; 6. Marolf; 7. Goedert; 8. Kyle Krampe, Baxter.
2nd heat – 1. Fitzpatrick; 2. Ryan; 3. Neal; 4. Johnson; 5. Holladay; 6. Kay; 7. Callahan; 8. Emerson.
3rd heat – 1. Kile; 2. DeFrance; 3. Hinrichs; 4. Andy Eckrich; 5. Jonathan Brauns, Muscatine; 6. Klein; 7. Tharp.
4th heat – 1. Aikey; 2. Denny Eckrich; 3. Diercks; 4. Bruening; 5. Curt Schroeder, Newton; 6. Paul Conrad, Colo; 7. Justin Mitchell, Cedar Rapids.
1st "B" feature (top six) – 1. Andy Eckrich; 2. Martin; 3. Marolf; 4. Goedert; 5. Tharp; 6. Klein; 7. Krampe; 8. Brauns; 9. Dolan.
2nd "B" feature – 1. Holladay; 2. Bruening; 3. Kay; 4. Callahan; 5. Emerson; 6. Johnson; 7. Conrad; 8. Schroeder; 9. Mitchell.