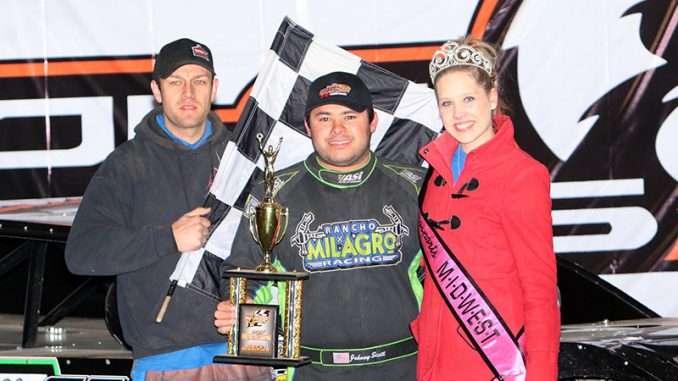 MARSHALLTOWN, Iowa (April 7) – Johnny Scott was understandably impressed by the quality of the IMCA Modified feature field at Marshalltown Speedway's Frostbuster special Friday night.
The New Mexico native, now racing out of Cameron, Mo., was the most impressive, racing from 18th starting to top the $1,000 to win event ahead of Kyle Brown and Hunter Marriott.
"There were a lot of good cars here tonight. We got a break when we got a caution with five or six laps to go and restarted seventh," he said. "I stayed on the outside, ran side-by-side with Kyle and finally cleared him for the lead coming to the white flag."
"Everything worked out for us," Scott added. "We've run in the top five at Marshalltown before and it feels good to finally win here."
Chris Simpson and Clint Luellen completed the top five finishers. Scott was already on the Fast Shafts All-Star Invitational ballot.
More than 160 cars were entered for the first of three weekend Frostbusters. Boone Speedway hosts the Saturday event, Benton County Speedway at Vinton the Sunday show.
Newton High School sophomore Ethan Braaksma got on the road to Marshalltown right after class on Friday and drove to his career first Karl Chevrolet Northern SportMod feature win.
Starting his second full season in the division, Braaksma drew the pole, found the top side to his like and led another field full of heavy hitters to the checkers.
"I kind of held my line and drove away with it," he said. "I couldn't find anything on the bottom so I went back to the top."
Runner-up was Sam Wieben and Austin Luellen was third.
Damon Murty won the IMCA Sunoco Stock Car feature, ahead of Jay Schmidt and Randy Brands. Benji Irvine got the best of his IMCA Sunoco Hobby Stock foes, with Nathan Ballard second and Eric Stanton third.
Feature Results
Modifieds – 1. Johnny Scott; 2. Kyle Brown; 3. Hunter Marriott; 4. Chris Simpson; 5. Clint Luel­len; 6. Adam Larson; 7. Todd Shute; 8. Jason Wolla; 9. Jacob Murray; 10. Jesse Hoeft; 11. Josh Gilman; 12. Ronn Lauritzen; 13. Jimmy Gustin; 14. Casey Skyberg; 15. Trent Jackson; 16. T.J. Smith; 17. Joel Rust; 18. Tim Lemirande; 19. Adam Reed; 20. Gatlin Leytham; 21. Jenae Gustin; 22. Racer Hulin; 23. Mike Van Genderen; 24. Justin Medler.
Stock Cars – 1. Damon Murty; 2. Jay Schmidt; 3. Randy Brands; 4. Mitch Hovden; 5. Justin Temeyer; 6. Tyler Pickett; 7. Angel Munoz; 8. Larry Karcz; 9. Kyle Brown; 10. Jake Nelson; 11. Bret Koehler; 12. Jeremy Swanson; 13. Abe Huls; 14. Trent Murphy; 15. David Bouche; 16. Chris Wiltse; 17. Dave Atcher; 18. Tyler Muirhead;19. Todd Reitzler; 20. Jerry Winkler; 21. Jeff Mueller; 22. Michael Murphy; 23. Kevin Balmer.24. Brendon LaBatte.
Northern SportMods – 1. Ethan Braaksma; 2. Sam Wieben; 3. Austin Luellen; 4. Jake McBirnie; 5. Johnathon Logue Jr.; 6. Carter VanDenBerg; 7. Wyatt Block; 8. Brandon Schmitt; 9. Hunter Parsons; 10. Tim Warner; 11. Chase Rudolf; 12. Kyle Olson; 13. Thomas Egenberder; 14. Vince Engebregtsen; 15. Lynn Brockett; 16. Dan Melton; 17. Kevin Bethke; 18. Scott Williams; 19. Dusty Masolini; 20. Cory Pestotnik; 21. Jon Schultz; 22. Brett Meyer; 23. Joey Schaefer; 24. Ja­son Mason.
Hobby Stocks – 1. Benji Irvine; 2. Nathan Ballard; 3. Eric Stanton; 4. Shannon Anderson; 5. Billy Rhoades; 6. Eric Knutson; 7. Aaron Rudolph; 8. Clint Nelson; 9. Bryce Sommerfeld; 10. Shawn Kuennen; 11. Luke Bird; 12. Garrett Eilander; 13. Tyson Overton; 14. Dustin Graham; 15. Justin Wacha; 16. Eugene Nicklas; 17. Ryan Wells; 18. Solomon Bennett; 19. Gary Pfantz; 20. Leah Wroten; 21. Dylan Nelson; 22. Kenny Hay; 23. Brian Derry; 24. Brandon Cox.