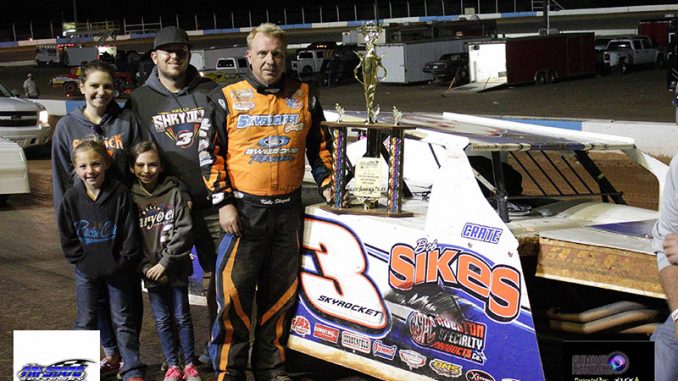 POCOLA, Okla. (April 1) – Kelly Shryock admitted to having some concerns after drawing the outside row five start in Saturday's Cecil Harlan Memorial Kegger IMCA Modified main event at Tri-State Speedway.
"There were some pretty good drivers starting ahead of me. I drew 10 and thought the inside row was going to take off," he said. "They dropped the green, I took off and I think we had the lead by lap five. It turned out to be a pretty cool win for us."
No stranger to the Pocola speedplant, Shryock took home more than a little gas money – $1,500 – for the victory. He was already a Fast Shafts All-Star Invitational candidate.
Defending race winner Jeff James was a distant second and Ken Schrader took third. Rounding out the top five were Cole Traugott and Danny Womack.
Traugott had started the 25-lapper from 14th.
"We pitted next to Schrader. He's a hoot," said Shryock. "We went to Tri-State wanting to race, wanting to try out some new things on the car and wanting some warm weather. It all worked out for us."
Feature – 1. Kelly Shryock; 2. Jeff James; 3. Ken Schrader; 4. Cole Traugott; 5. Danny Womack; 6. Stephen Muilenburg; 7. Mike Hansen; 8. J.J. Andersen; 9. Kayden Menasco; 10. Kris Lloyd; 11. Jason Payton; 12. Toby Lindell; 13. Eric Beshoner; 14. Jake Davis.