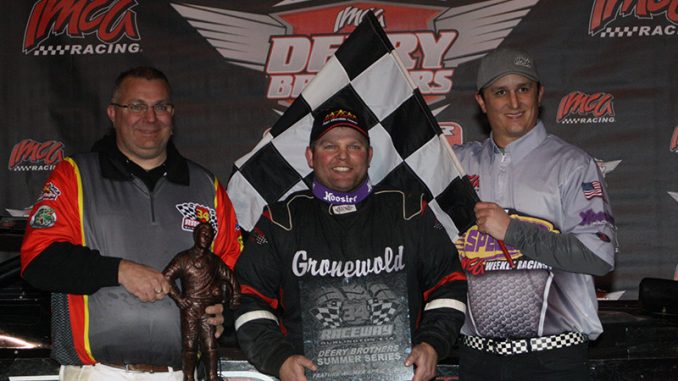 WEST BURLINGTON, Iowa (April 1) – Nick Marolf will have much memories of his second visit to 34 Raceway than he will of his first.
Marolf passed Darrel DeFrance and led the last 30 times around the track in winning Saturday's Deery Brothers Summer Series opener at West Burlington, earning $2,000 for his IMCA Late Model tour efforts.
His one previous outing at 34 came at the Pepsi USA Nationals 17 years ago when his drive shaft broke during hot laps.
"That was early in my career and we were just trying to make laps. That night was forgetful. I'd like to not remember it at all," Marolf said. "We got lucky tonight with the redraw and got to start close to the front (third). I ran with Jay Johnson and then was able to pass Darrel in (turns) three and four for the lead."
While drivers swapped positions behind him, no one could find a way past Marolf before the check­ers flew. DeFrance, competing in his 468th consecutive series event, ended as the runner-up and also won the $250 Sunoco Race Fuels feature qualifier drawing.
Chad Holladay, Matt Ryan and defending series champion Tyler Bruening completed the top five.
Holladay earned hard charger honors, advancing a dozen positions. Luke Goedert was a plus 11 on the night and finished sixth.
The winner of Saturday's second heat, Marolf was leading that race when Andy Eckrich got up­side down.
His victory in the main event was the career second for Marolf, whose first tour win had come Sept. 14, 2012 at Farley Speedway.
"We've led quite a few races since then but haven't been able to capitalize," he said. "It felt like it has been been so long since we won. Now it feels like we've gotten that monkey off our back."
Saturday's show was also the 49th series race held at West Burlington, more than at any other track.
Round two of the 31st annual Deery Brothers Summer Series takes Late Model drivers and fans to West Liberty Raceway on Saturday, April 8 for another $2,000 to win event. Marolf will be both the national and series points leader going into that race.
Feature results – 1. Nick Marolf, Wilton; 2. Darrel DeFrance, Marshalltown; 3. Chad Holladay, Muscatine; 4. Matt Ryan, Davenport; 5. Tyler Bruening, Decorah; 6. Luke Goedert, Guttenberg; 7. Richie Gustin, Gilman; 8. Scott Fitzpatrick, Wheatland; 9. Jeff Aikey, Cedar Falls; 10. Jake Neal, Omaha, Neb.; 11. Jeff Tharp, Sherrill; 12. Curt Schroeder, Newton; 13. Jesse Sobbing, Malvern; 14. Jay Johnson, West Burlington; 15. Joel Callahan, Dubuque; 16. John Emerson, Waterloo; 17. Curt Martin, Independence; 18. Jeremiah Hurst, Dubuque; 19. Rob Toland, Davenport; 20. Jona­than Brauns, Muscatine; 21. Paul Conrad, Colo; 22. Denny Eckrich, Tiffin; 23. Todd Malmstrom, Silvis, Ill.; 24. Shawn Mulvany, Moline, Ill.