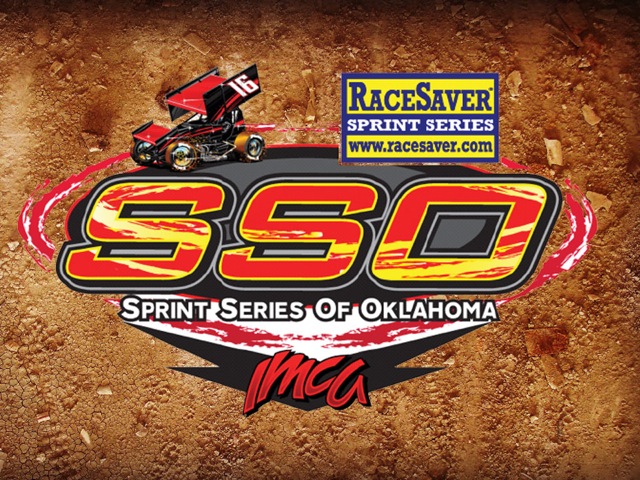 By David Smith Jr.
ARDMORE, Okla. (March 25) – The Sprint Series of Oklahoma IMCA RaceSaver Sprint Car Se­ries presented by Smiley's Racing Products opened its 2017 race season Saturday night and when all said and done it was Chad Koch leading the final five laps to capture his first-ever victory with the series at Southern Oklahoma Speedway. This event was co-sanctioned with the Sprint Series of Texas IMCA Racesaver Sprint Series.
The fourth starting Koch quickly moved into the runner-up position, utilizing the top of the oval while leader Jake Martens worked the bottom.
The leader began approaching slower cars on lap 11. Martens built a full-stretch lead that was erased by the final caution of the night, on lap 13. Koch got a run around Martens to take the lead on the next circuit.
From then on there was no stopping Koch as he led the rest of the way unchallenged to capture the victory aboard his home-built sprinter.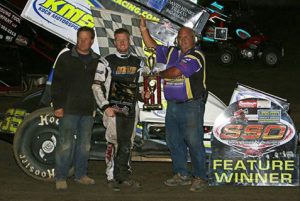 "Man, what a night," said an elated Koch. "We had ignition issues and didn't get to hot lap but got it ready just in time for the heat. We won that, entered the pits and caught on fire. Luckily, Chip (Graham) was there to help me get out of the car. I was stoked just to be in the top five. I was hop­ing the top would come in and it did."
Gary Owens got around Martens with three laps to go and held off a last-corner slide job from Michael Day exiting turn four to finish second while Martens faded to a fourth-place finish. Blake Daccus rounded out the top five.
Thirty-one cars vied on opening night.
Next up for the Sprint Series of Oklahoma will be Saturday, April 1, at Longdale, Okla., Speedway in a combined event with the Kansas-based United Rebel Sprint Series.
The next event for the Sprint Series of Texas will be Friday, April 21, back at Southern Oklahoma Speedway when they will once again be joined by the SSO.
Feature results – 1. Chad Koch; 2. Gary Owens; 3. Michael Day; 4. Jake Martens; 5. Blake Dacus; 6. Michelle Melton; 7. Joe Wood Jr.; 8. Justin Fifield; 9. Dale Wester; 10. Brandon Long; 11. Zach Blurton; 12. Jesse Graham; 13. Loyd Clevenger; 14. Brandon Anderson; 15. Josh Toho; 16. Dillon Laden; 17. Robert Vetter; 18. Tristan Oakes; 19. Chris Kelly; 20. Andy Shouse.