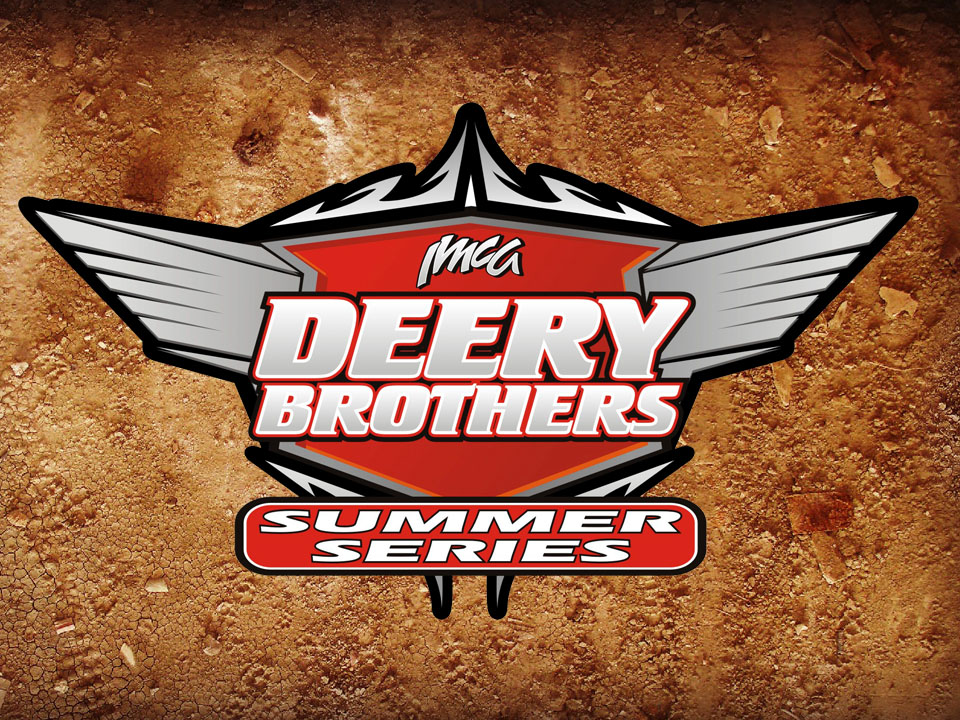 WEST BURLINGTON, Iowa – The track that hosted the first Deery Brothers Summer Series event rolls out the red carpet for the first IMCA Late Model tour event of the season next Satur­day, April 1.
The Deery Series returns to 34 Raceway for a $2,000 to win, minimum $300 to start opening night feature. Forty-eight previous events have been held at West Burlington, more than at any other track, in the tour's 30-year history.
IMCA Speedway Motors Weekly Racing National and Allstar Performance State points will be awarded, as will special series points, as the tour switches to IMCA's 40-point system. Heat race points will be awarded (in 3-2-1 increments), also for the first time.
"We obviously have a long history with 34 Raceway and with the title sponsor of the series having a dealership in town, there is a lot of connection with West Burlington," noted IMCA President Brett Root. "It's good to see the series open there again."
Drivers with perfect series attendance in 2016 are eligible for the $250 Sunoco Race Fuels fea­ture qualifier drawing at 34 while Malvern Bank pays $50 in cash to the winner of each heat race.
Pit gates open at 3 p.m. and the grandstand opens at 5 p.m. on race day, with the first green flag at 7 p.m. Grandstand admission is $20 for adults and seniors, $15 for students and free for kids ages 10 and under.
More information is available by calling 319 752-3434 or 319 750-3454 and at the www.34raceway.com website.
Tyler Bruening is the defending series champion while ironman Darrel DeFrance has competed at all 467 events in tour history.
Hometown driver Jay Johnson was the winner and his father Johnny the runner-up in the first-ever series race on April 11, 1987 at 34. DeFrance finished eighth that night.
2016 Deery Brothers Summer Series top 20 point standings – 1. Tyler Bruening, Decorah, 721; 2. Jeff Aikey, Cedar Falls, 702; 3. Matt Ryan, Davenport, 677; 4. Ryan Dolan, Lisbon, 662; 5. Joel Callahan, Dubuque, 658; 6. Scott Fitzpatrick, Wheatland, 655; 7. Joe Zrostlik, Long Grove, 627; 8. Chad Holladay, Muscatine, 620; 9. Cayden Carter, Oskaloosa, 589; 10. Darrel DeFrance, Marshalltown, 571; 11. Andy Nezworski, Buffalo, 441; 12. Richie Gustin, Gilman, 431; 13. Ray Guss Jr., Milan, Ill., 430; 14. Tyler Droste, Waterloo, 401; 15. Denny Eckrich, Tiffin, 383; 16. Jus­tin Kay, Wheatland, 373; 17. Andy Eckrich, Oxford, 351; 18. Curt Schroeder, Newton, 342; 19. Eric Pollard, Peosta, 296; 20. Kyle Hinrichs, Swisher, 269.